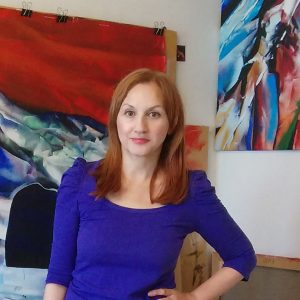 Gina Plunder
Q&A
What is your background?

I was born in Romania in 1964, and have been based in Rastatt, Germany for over 30 years (a small town in the South West near the French border).

I graduated in Art in Freiburg, Germany. I am member of GEDOK- German and Austrian female Artists association, BBK- federal German artist association, IAA International Association of Art. I am also an art teacher. I have been drawing and painting since I was a little girl. My uncle was an Advertise-Poster painter in Romania and I used to love spending time watching him paint! He was my very first teacher.

A great honour was to exhibit my paintings in the German Pavilion at the World EXPO 2008 in Zaragoza, Spain, selected by the Federal Ministry for Economics and Technology. The International Exposition Expo 2008 was from June 14th to September 14th, under the motto "Water and Sustainable Development". I exhibited my large-scale paintings on this topic in a solo exhibition in the VIP Lounge in the German Pavilion.

A milestone in my career as an artist was the selection of my painting "Mother Nature" at the 4th Beijing International Art Biennale of China (only 168 international artists were selected from 16,000 applications). This painting is now permanently on display in the China National Art Collection in the National Art Museum of China in Beijing.

What inspires you and what is your creative process?

I get inspiration from the life around ancient art, mythology and myself. I love traveling around the world and getting to know and experience different countries. Walking through a spice market with all its myriad of beautiful colours and abundance of exotic aromas, and observing the people walking around, are inspirational to me! This is the fabric from which my material is woven.

When I "visualise" a painting, I do small sketches. After that, I start to do the "underlaying" with the crystalline reflections. Onto that, I place my motif. I'm drawing, I'm painting, I create objects from wire or acrylic plates.

My first paintings were with watercolour. In the course of my studies, I started to combine various water-soluble paints and mix them. Now I focus on acrylic which are sometimes utilised as if they were watercolours. In order to fund my further studies, I used to also draw many portraits at events.

A few years ago, I started to create objects by using acrylic glass plates, and now I am also incorporating wire.

What is your favourite subject matter and why?

Escapism, women and architecture are the topics of my work. With my work, I want to take the viewer into another world full of light and colours. My aim is to create an imaginary fantasylike world, visionary architecture or situations. I'm a woman and I'm mostly inspired by my own femininity for my paintings of women, my wishes and my dreams.

Who are your biggest influences?

I adore van Gogh and Klimt. I'm fascinated by crystal reflections and architecture.

How have you stayed inspired and energized during the pandemic?

At the beginning not at all, but after the initial shock I started to create again. I began my collection of mixed media drawings "On target" with the theme of inescapable situations. For this work, I used recycled material, used shooting paper targets as a symbol for war, danger or a situation that you cannot escape and that you must confront, or in other words you are the target.

What is/are your favourite medium(s)?

I'm using countless layers with acrylic paint and spray on canvas to create the crystalline reflections in my paintings, as well as sometimes using reflective materials like acrylic glass, mirror and foils.

How long does it take to complete a piece, and what is the entire process?

I'm painting everything free by hand and use countless layers with acrylic and spray paint, so it takes time to let my paintings "grow" till they are finished, and can take up to 4 weeks. It's exciting and I'm enjoying every minute.

Do you like working on different pieces at the same time?

Yes, I'm working on 2 different pieces at the same time. If my studio was a little bit bigger, I would possibly work on more different pieces at the same time. That is because my head is full of ideas, and when I need a creative break from one piece, I will return to the other piece I am working on.

What other artists have been inspirational to you in your work?

I love van Gogh and Klimt.

What do you hope people feel when they view your art?

I hope it puts them in a good mood, because this reflects how I feel when I am working. Some collectors of my works have informed me that my work relaxes them.
Projects & Collaborations
PROJECTS/NEW COLLABORATIONS

A member of BBK – Federal German Artists Association, IAA – International Association of Art, and GEDOK – German and Austrian Female Artists Association.

FORTHCOMING EXHIBITIONS/EVENTS

2021 October – International Art Biennial of Argentina, Borges Cultural Center, Buenos Aires, Argentina. I have been selected to exhibit but unfortunately, I don't think I'll attend due to the pandemic.

2021 – Exhibition with two galleries at Volta Art Fair in Basel, Switzerland and Miami in the USA

PAST EXHIBITIONS/EVENTS

2021 – 22nd to 24th October, Art Shopping Paris, Carousel de Louvre, Paris, France (single stand)

2020 – "100 Paintings" Röser Media Haus Karlsruhe, Germany (solo with 100 artworks)

2018 – World Art Dubai, Dubai World Trade Centre, Dubai / UAE, (single stand)

2012 – "5th Beijing International Art Biennial", National Art Museum Beijing, China

2010 – "4th Beijing International Art Biennial", National Art Museum Beijing, China

2009 – "Wahlheimat", ZKM Centre for Arts and Media Karlsruhe, Germany

2008 – German Pavilion, World EXPO Exhibition in Zaragoza, Spain (solo)

AWARDS/ACHIEVEMENTS

2021 – Awarded the Power of Creativity Art Prize by Contemporary Art Curator Magazine

2000 – Shortlisted for the "Paul-Louis Weiller Prix – Portrait" Institute de France, Académie des Beaux Arts Paris, France

2017 – "Global Art Awards", Finalist painting, Armani Hotel in Burj Khalifa Dubai /UAE

2012 – Shortlisted for the 6. Art Prize Museum, Ettlingen, Germany

1996 and 2005 – Art funding from Land Baden-Württemberg, Germany

ARTICLES

Erfolgreiche Rastatter Künstlerin Gina Plunder wird im Historischen Rathaus geehrt | Baden-Baden TV

Metadimensional – über Gina Plunder – KUNSTPORTAL BADEN-WÜRTTEMBERG (kunstportal-bw.de)

CORPORATE COLLECTIONS

Artworks are in following museum collections:

National Art Museum of China in Beijing / China National Art Collection

Government Bureau Karlsruhe / Collection of Land Baden Württemberg, Germany

Book Museum of the Land Bibliotheca Dresden, Germany

Buch: "Heritage book 2009 of City Rastatt" Portrait "Gina Plunder – Meisterliches Spiel im Metadimensionalen" ISBN 3-925553-27-4