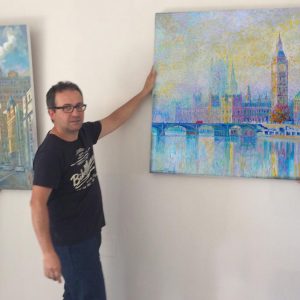 Juan del Pozo
Juan del Pozo was born in Spain in 1969, and lives in Madrid. He is the son and student of José Rodríguez, a Spanish artist whose paintings are inspired by the Spanish landscape. Juan showed artistic talent from a very young age, and was nurtured by his father before going on to study in Madrid.
Not content with working in oils alone, Juan also explores the use of engravings and watercolours. He has accepted commissions to paint murals in different locations throughout Spain, and was the Art Director of "Idealiza"; a company specialising in architecture. Juan is a versatile artist and has a passion for most themes, but focuses on cityscapes around the world, portraits and still life.
Juan is a very successful contemporary artist, and exhibits widely throughout Europe. He has won many prestigious awards, and his work can be found in private collections in Spain, France, Portugal, Sweden, Brazil and the UK.
Q&A
What is your background?

My father is a Master of painting and is also a sculptor. I attended a school of arts in Madrid, but learned most of my skills from my father.

What inspires you and what is your creative process?

I focus on light, but the combination of vibration, light and colours together make everything come alive.

What is your favourite subject matter and why?

I like to juxtapose daily life with nature. I like painting aerial cityscape views, when we look at a different point of view in our life, we can see that everything changes, sometimes things are not what they appear, since something deeper hides behind simple forms.

Beauty is also one of my aims: paintings must transmit a sense of beauty which should talk to people's souls.

Who are your biggest influences?

My family, country and culture have shaped me. My father taught me in order to search my own style. He always said to me that I should not imitate any other artists. The fact that my style is completely different to my father's, proves him to be a real master. www.joserodriguezlopez.com

What is/are your favourite medium(s)?

I like traditional tools, I have never found anything stronger, brilliant and drivable than oil paint.

How long does it take to complete a piece, and what is the entire process?

It depends on the theme; architectural works take time: first, I compose the idea, later I draw and make perspectives and finally I create the colour composition. Seascapes and marinas are easier to paint; it is possible to paint them in 3 days. I like plein air painting, this skill requires you to be focused on the objects and be faster than the studio painting.

Do you like working on different pieces at the same time?

I don't like it, but sometimes I have no choice.

Name an artist(s) you'd like to be compared to.

Michelangelo, hehe, it's a joke! People often try to compare my work with other artists and sometimes see similarities with Monet, Sorolla -impressionist painters. I prefer not to be compared though.

What subjects do you pursue and why?

I search subjects that people can identify, mainly cityscapes as people connect with things that are familiar, but my real purpose is light and colour.

What other artists have been inspirational to you in your work?

The great painters in history, even the anonymous artists of the ancient times. I like visiting museums and seeing their works. Inspiration comes from looking at these art pieces.

I love Sorolla, Goya, Friedrich, American and European impressionists.

What do you hope people feel when they view your art?

Good question. I hope that people will feel a sense of wonder when they see my art. Even a familiar painting can change, as depending on the time of the day, the painting may appear different. My goal is to evoke positive emotions when you view my work.
Projects & Collaborations
PROJECTS/NEW COLLABORATIONS

FORTHCOMING EXHIBITIONS/EVENTS

PAST EXHIBITIONS/EVENTS

2020 – Battersea Spring Art Fair, London

2018-2019 – Cava Baja Gallery, Madrid, Spain

Eclectic Gallery, London, UK

Art5 Gallery, Brighton, UK

Jorge Alcolea Gallery, Madrid Art & Auction Fair, Spain

Signet Contemporary Art Gallery, London

AAF New York

AAF Battersea, London, UK

Art Fair Singapore

Art fair Dubai EUA

Tokyo International Art Fair, Japan

AAF Miami, USA

2016-2017 – Signet Contemporary Art Gallery, London, UK

Art fair Dubai, EUA

Tokyo International Art Fair, Japan

Centro de Arte Anabel Segura, Madrid, Spain

2015, 2016 – Art5 Gallery Brighton, UK

2013 – Art Catto international Gallery, Loulé, Portugal

2011 – Caja de Burgos, Spain

2009 – Feria Internacional de Marbella, Spain
2008 – Galería Paz Feliz, Madrid, Spain

2006 – Feria Internacional de Marbella, Spain
2002-2005 – Galería Jorge Alcolea, Madrid, Spain
2001-2002 – Feria de arte de Oporto, Portugal
2001 – Feria de Arte de Valencia, Spain

2001 – American Prints Gallery, Barcelona, Spain