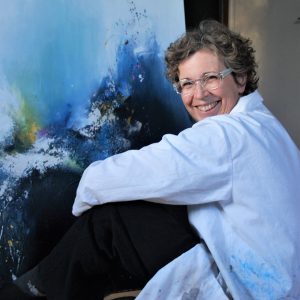 Roselyne Dupetitpré
Q&A
What is your background?

I started very young with figurative art. In 2011, after a personal ordeal, I became fascinated by abstract painting. I felt Abstraction and Life had the same essence: huge space of freedom where anything could happen – a space where you walk on your own.

What inspires you and what is your creative process?

Eastern philosophies inspire me deeply. Meditation is now part of my life and the white empty canvas drives me into a meditative state. I am just in the flow of the creative process, feet firmly on the ground, the spirit devoted to my artwork. I always start with the canvas lying on the floor and, by chance, the structure appears from my collages and splash of various materials. Then, after applying a first grey halftone, a main colour emerges.

What is your favourite subject matter and why?

My artwork is about us, about life and nature. The vital breath flowing from the brush, in the sometimes explosive meeting of opposites: light and darkness, transparency and opacity, roughness and smoothness, trace and evanescence.

Who are your biggest influences?

I am deeply inspired by the work of Chinese artists Zao Wou-Ki and Chu Teh-Chun. The breath of their lyrical abstract art has opened an emotional window for my creativity. I also take inspiration from other artists such as Fabienne Verdier, Pierre Soulages, Cy Twombly, Joan Mitchell and many others.

How have you stayed inspired and energized during the pandemic?

I have tried to welcome this period full of doubt, to relax in its uncertainty. Surprisingly, new colours and brighter atmosphere have emerged, as though the dark times have pushed my brush into a joyful and optimistic necessity.

What is/are your favourite medium(s)?

I paint with acrylic, a medium I love to apply with fluid and vigorous strokes. I have developed an intimate relationship with material: cracks, impastos and casts structure my composition and my limited chromatic range offers many lighting effects.

What do you hope people feel when they view your art?

Let the colours transport the viewer into something deep between underwater depth and celestial poetry.
Projects & Collaborations
PROJECTS/NEW COLLABORATIONS

I work with Carré d'Artistes, a gallery specialized in small square paintings.

FORTHCOMING EXHIBITIONS/EVENTS

April 2023 – Carré d'Artistes Singapore, 290 Orchard Road, Paragon Shopping Mall, SC, #04-08 Paragon, Singapore 238859

PAST EXHIBITIONS/EVENTS

2022 – (from August) – Carré d 'Artistes Art Gallery, Bonn, Germany

2022 – (from August) – Copelouzos Art Museum, Athens, Greece

2022 – (1st to 4th September) – Focus Art Fair Carrousel du Louvre, Paris, France

2022 – (March) – L' Abbaye, Bouchemaine, France

2021 – Galerie Libre est l'Art, Paris, France

2021 – Galerie Loire et Sens, Juigné, France (solo)

2018 – 2019 – Carré d'Artistes, Bordeaux, France

2016 – Galerie 13 A, Angers, France (solo)

ARTICLES