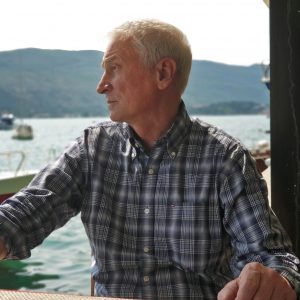 Alexander Lozovoy
Alexander Lozovoy, born in 1949, is an independent artist living in Moscow. Lozovoy is currently the only living Russian artist who was taught directly by Russian Avant-garde artists. His teacher was Barbara Bubnova (1886 – 1983), who worked and participated in exhibitions together with V. Kandinsky, K. Malevich, P. Filonov, A. Rodchenko and others.
His father Nikolai Lozovoy (1901 – 1992) was taught by Filonov and Malevich in the 1920s.
In his paintings, Lozovoy uses techniques and secrets from the old Russian icon school. His canvases are made with different types of paints that do not mix, which makes his paintings exceptionally bright. This technique allows his paintings to preserve their colours, because chemical elements of the pigments do not interact with each other.
His work has been exhibited in Russia and many other countries, and his paintings are featured in prestigious collections worldwide. His works are also exhibited in the Moscow Museum of Modern Art, The Pushkin State Museum of Fine Arts (Moscow), the State Russian Museum (St -Petersburg), and Zimmerli Art Museum in New Jersey (USA). Lozovoy's paintings have been sold at MacDougall's Auction in London, Sotheby's and in Auction in Stockholm.
Projects & Collaborations
PROJECTS/NEW COLLABORATIONS

FORTHCOMING EXHIBITIONS/EVENTS

PAST EXHIBITIONS/EVENTS

2021 – Marina Tsvetayeva's House Museum, Moscow. Solo exhibition.

2016 – Embassy Serbia, Moscow. Solo exhibition.

2014 – Alexander Solzhenitsyn Center, Moscow. Solo exhibition.

2012 – Tradition of Avant-garde, Russian auction house, Moscow. Solo exhibition.

2012 – Russian art Х1Х – ХХI Century, Gallery, Eritage, Moscow.

2011 – Gallery Les Oreades, Moscow. Solo exhibition.

2011 – House of Nationalities, Moscow. Solo exhibition.

2011 – Art-studio Dominanta, Central House of Artists, Moscow.

2011 – State Russian Museum, Sankt-Petersburg. Monotype

2011 – State Russian Museum, Sankt-Petersburg. Gate and Doors.

2011 – Gallery A-3, Moscow.

2010 – Central House of Artists, Moscow. Exhibition of Collage.

2009 – Gallery Eritage, Moscow. From Avant-garde to Expressionism, Varvara Bubnova, Nikolay Lozovoy and Alexander Lozovoy.

2008 – Gallery Eritage, Moscow. Art-Manege.

2008 – Collection of Art Museum New Jerusalem, Moscow region. XX Century of Russian Art.

2007 – Gallery New Hermitage, Moscow. My contemporaries, Collection of Valery Dudakov.

2007 – Gallery Eritage, Central House of Artists, Moscow. International Art Salon.

2006 – Gallery Eritage, Moscow.

2006 –Museum of Fine Art, Moscow.

2006 – Gallery Impressio, Moscow. Space of Modern Art.

2006 – Moscow Museum of Modern Art. Tradition of Sankt-Petersburg Avant-garde, Varvara Bubnova (1886 – 1983), Nikolay Lozovoy (1901 – 1992), Alexander Lozovoy (1949 -)

2006 – State Museum of Fine Art, Moscow. Monotype in Russia ХХ Century.

2006 – State Russian Museum, Sankt- Petersburg. Time of Changes. Art 1960 – 1985 in Soviet Union.

2005 – State Russian Museum, Sankt-Petersburg. Collage in Russia, XX Century.

1998 – RepOffice of Banca di Roma, Moscow. Solo exhibition.

1997 –Nashe Nasledie Magazine, Moscow. Solo exhibition.

1996 – Gallery Kolorist, Moscow. Solo exhibition.
1993 – Gallery Slovo-Art, Moscow. Solo exhibition.

1992 – Exhibition Hall Manezh, Sankt-Petersburg.

1986 – State Museum of Eastern Arts, Moscow. Exhibition to celebrate the 100th birthday of V. Bubnova.

1980 – Solo exhibition within the programme of the ХХII Olympic Games, Moscow.

1978 – Teacher and Progen, (V. Bubnova, А. Lozovoy, V. Voronov), Moscow.

1970 – 1987 – Union of Artists of the USSR. Permanent participant of exhibitions.

1969 – Central Exhibition Hall Manezh, Moscow. Debut art exhibition.

INTERNATIONAL EXHIBITIONS

2020 – "Invisible connections" in Riga, Latvia. Solo exhibition.

2019 – Vernissage "The New Oriental Series. Postexpressionism" / Berlin at Art City People, Germany.

2011 – L'Arte Contemporanea in Russia. 1950–2011, Creia, Regione Lazio, Italy.

2008 – Museum of Contemporary Russian art, Jersey City, USA. Unknown Russia.

2008 – Beyond Art Gallery, Athens. Solo exhibition.

2007 – Kolodzei Art Foundation, USA. Moscow-New York.

2006 – Beyond Art Gallery, Athens. Solo exhibition.

2006 – Jeanneret Bang & Olufsen, Geneva, Switzerland.

1999 – Asta Hotel, Asta, Italy. Solo exhibition.

1997 – Russian Cultural and Scientific Center, Berlin, Germany. Solo exhibition.

1995 – Gallery Cartoon, Barcelona, Spain. Solo exhibition.

1993 – Belford Center, Johannesburg, Republic of South Africa. Exhibition of the Russian artists.

1990 – Research Center, Houston, USA. exhibition Moscow – Houston.

1989 – Exhibition of the Russian Avant-garde, Auction Mart of Ya. Vainer, Munich, Germany.

1989 – Justitia Center, Pontremoli, Italy. Exhibition of Modern Russian artists.

1988 – Russian Center, Rome, Italy. exhibition of the Russian Avant-garde.

MUSEUM COLLECTIONS

Paintings featured in their permanent collection:

The Pushkin State Museum of Fine Arts (Moscow)
Zimmerli Art Museum (USA)
Arkhangelsk Regional Museum of Fine Arts (Arkhangelsk, Russia)
The State Russian Museum (Moscow)
Moscow Museum of Modern Art
The Museum "New Jerusalem" (Moscow region)
Yaroslavl Art Museum (Yaroslavl, Russia)