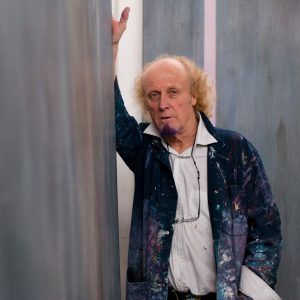 Allan Storer
Following seven years academic studies and postgraduate research in fine art and theory at Chelsea College of Art and finally Kings College, Allan always a people person, practised his skills working for a short while in community theatre, and then crisis intervention in mental health and complex needs through education and psychotherapy. Now based in St. Ives and London, he is a member of the Federation of British Artists, the Hesketh Hubbard Art Society and the St. Ives Art Club.
A published artist in the National Collection Public Catalogue Foundation of Paintings sponsored by the BBC, Allan has exhibited with the Royal Institute of Oil Painters in the Mall Galleries London, museums and public art galleries.
Allan also provides workshops and is a respected art tutor and lecturer.
*Cheyne Terrace, located in prime central London between the King's Road and Cheyne Walk, will comprise 25 luxury apartments with the benefit of large terraces, a private swimming pool and leisure facility, along with extensive car parking, 24 hour security and concierge.
Artist Statement:
"only connect" E. M. Forster
Oil painter, tutor and academic, Allan Storer enjoys life and people. Colour, shape and value evoke emotion and feelings, they "only connect"
Like all abstract paintings my work is primarily about the emotional connection between viewer and painting, the inner and outer connecting. Idea and technique assisted by oil's texture and materiality creates an organic vitality independent of image, paying homage to the artistic principle of creativity
Painting my large abstracts with squeegee and palette knife gives me no alternative other than to loosen up and find opportunity in chance outcomes. The direction of a painting is sometimes almost immediate, although very often I have to work and re-work leaving the canvas untouched for weeks or months until the painting speaks and completion is achieved.
Projects & Collaborations
PROJECTS/NEW COLLABORATIONS

FORTHCOMING EXHIBITIONS/EVENTS

PAST EXHIBITIONS/EVENTS

Aardvark Gallery, Shropshire
Affordable Art Fair, Battersea
American National Rugby Play Offs (USA)
Art House Gallery St. Ives, Cornwall
Bayswater Road Artist Association, London
BBC Paintings in the National Collection
Bedford Park Arts Festival, London
Birmingham NEC
Boundary Art Gallery, Cardiff Marina
Cobalt Gallery
Curzon Gallery Wimbledon
Glynn Vivian Art Gallery, South Wales
Graham Hunter Gallery, Marylebone, London, W1U 6RQ
Landmark Gallery London
Leadenhall Elevated Art Fair, London
Loplop Studio, Twickenham
Llangollen International Pavilion
Luminaire Gallery, Knightsbridge
Marriott Hotel, Cardiff
Moreton Gallery, Moreton in the Marsh
Mumbles Road Gallery, Swansea
Mall Galleries, London
Minotti, St.Margarets Street, Mayfair
No Naked Walls Gallery, Surrey
Nostalgia Gallery, London
National Trust, Rhossili Gower
Oyster Gallery, Mumbles, South Wales
Par-Ici Gallery London
Picture House Gallery Padstow
Royal Institute of Oil Painters, Mall Galleries, London
Saltmarshe Gallery Cardiff
Salubrious Gallery, Swansea
Museum of Wales
St. Ives Art Club, Tate Gallery, St. Ives, Cornwall, Charity Auction
Tros Gynnal Art Exhibition, South Wales
Swansea Museum
Turner Barnes Graham Gallery, Surrey
Up Front Rugby Fashion, Covent Garden, London
Up Front Rugby Fashion, Westfield Centre
Up Front Rugby Fashion, Blue Water
Washington Gallery, Penarth
Wimbledon Artist Opens Studios
World Rugby Museum, Twickenham
Wyecliffe Gallery, Surrey
Wychwood Art Gallery, Deddington
Several Art Advisors and Interior Design Consultancies and Commissions

COMMISSIONS,TELEVISION AND CORPORATE COLLECTIONS

Commissions include a Royal household, numerous celebrities, politicians, executive villas and developments in Southern France including ten large works for the 2014 Grand Prix in Monaco and his largest painting to date, an exceptionally large canvas twenty-six feet height by eight feet width, extending from the ground floor entrance hall to the first-floor landing for a large interior art project in an executive apartment of a *McAlpine development luxury show home in Chelsea, London.

His other artworks have been featured in national tournaments in the USA, CD album covers and as event logos as far away as Columbia. Most recently Allan's paintings featured in an episode of the TV Detective series McDonald and Dodds.