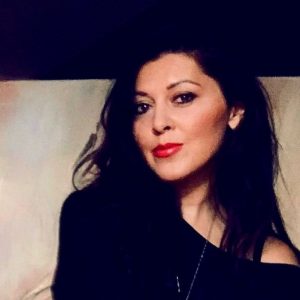 Andrea Ehret
Q&A
What is your background?

I was born in Slovakia, a small beautiful country in the heart of Europe, a country of magical fairy tales, like my grandma used to tell me before bedtime. I have a Master's degree in Fine Arts and as long as I can remember I was exposed to Art and conscious observation.

What inspires you and what is your creative process?

My paintings are my dream world that I can invite you to visit …

Sometimes I find my visions so intense, that I start to obsess about the idea how to transform them into a painting. The power of dream is unlimited. I know my subconscious mind can show me amazing colours, symbols and connections. Perhaps they even reveal new things to accept about myself whether that is visions from my daydreams or visions from night time dreaming.

I dream my art and I create my dreams. Through my art, I wish to portray a brimming and fierce life. My passion for art stems from my experiences growing up. As a child, I had always been guided by my parents to work with an artistic eye. Through this, I learned to recognize abstract beauty in everything around us, the glimpse of light walking through the forest, swimming in the various blues of the ocean or just from a simple stone, the beautiful texture of an ancient wall, the silence, a smile…

The creative process for me starts with conscious presence, observation, recognition of my feelings… Meditation and imaginative journeys I experience help me to reconnect my body and soul and stay true to myself.

What is your favourite subject matter and why?

Life. Love. Moments. Emotions or situations. Special light I see or the ocean...always. Calligraphy and Chinese ink as a material I work with and I am experimenting with kanjis and implementing calligraphy into my work fascinates me.

Circle as a symbol, Mother Earth, Universe. The beginning and the end. The essence of life. Woman. Unity. Intuition and Spirit. Energy. Everything. Nothing. Deus est circulus.

I often use circular canvases which allows me different options for composition of my paintings. Circular symbols also feature in my artworks too.

Who are your biggest influences?

I love Chinese calligraphy and the ink paintings of Zao Wou-Ki.

How have you stayed inspired and energized during the pandemic?

My boys didn't let me rest…kept me busy and energized. It was not easy but I think it made me realize again how easily we tend to take things for granted. This year has taught us we have fears we cannot control but also that we can only trust our inner peace, because what we have is always enough and always will be. The pandemic changed my daily routine; the way I create and need to divide my time between my family, my son and my work. Yes, my shows were postponed but I had four incredible collective shows online, started some new exciting collaborations and met wonderful artists and colleagues. This year I was also selected for artist residency in Chateau Orquevaux in France, and awarded with the Denis Diderot grant. I have so many things I am grateful for every day.
Projects & Collaborations
PROJECTS/NEW COLLABORATIONS

I recently collaborated with Wuch company to create a charity calendar and art auction which included 12 of my paintings. The money raised by this charity will be donated to the Children's Haematology Clinic in Motol, Prague. I have many beautiful connections to other artists, like my dear friend Jana Drdack, a dancer and a choreographer. We create special improvised arrangements on stage, such as live painting and dance performances.

FORTHCOMING EXHIBITIONS/EVENTS

2021 December – ART Prague 2021, Czech Republic

2022 February – Port Gallery, Barcelona, Spain

2022 spring – Noonpowell Fine Art, London, UK (solo)

2022 August – Spejchar Gallery, Chomutov, Czech Republic (solo)

PAST EXHIBITIONS/EVENTS

SOLO EXHIBITIONS

2020 – All About Woman, Zahorsky Gallery, Prague, Czech Republic

2019 – 24k Feelings, WORLD TRADE CENTER, The Hague Art Gallery, The Hague, Netherlands

2019 – Slovak Embassy, The Hague, Netherlands

2018 – Sny. /Dreams/ Galerie Lurago, Chomutov, Czech Republic

2018 – MindfullnessCON, International Conference of Mindfullness Prague, Czech Republic

2017 – Dreams, Galerie Anděl, Olomouc, Czech Republic

2017 – Moonlight, Galerie Kobližná, Brno, Czech Republic

2017 – Moonlight, Galerie u zlatého kohouta, Prague, Czech Republic

2016 – In the Circles, Galerie U zlatého kohouta, Prague, Czech Republic

2015 – Daydreaming. Individual Exhibition, Hostivice Castle, Hostivice, Czech Republic

2014 – Secret of Raw, Project Vibrant Food, life food and its vibrations. Collaborative project and art exhibition with various artists – violin virtuoso Jaroslav Sveceny, etc. /presented – Nova television, radio programmes in Czech Republic

2012 – The Corners, presentation of the project, Sonoma County, California, USA

2010 – The Corners, intermedia project /art show and presentation performance / Rybanaruby, Praha /collaboration with Californian poet Terry Ehret

2009 – Kruhy. Theatre Na Prádle, Prague Újezd, Czech Republic

2008 – Malby. Galerie u Bílého lva, Prague, Czech Republic

2008 – Cesta. Galerie Husova 9, Prague, Czech Republic

2007 – Pohyb v Polostínu/Half shadow movement/ Galerie Lurago,Chomutov, Czech Republic

2003 – Obrazy. Galerie Josefa Lieslera, Kadaň, Czech Republic

2002 – Belongings. Topoľcany, Slovakia

2001 – Andrea Ehret, Galerie Matice Slovenskej, Košice, Slovakia

SELECTED COLLECTIVE EXHIBITIONS

2021 – Her Weight in Gold, online international women showcase curated by Visionary Art Collective, USA

2021 – Affordable Art Fair, London, UK

2021 – Summer Affordable Art Fair London represented by NoonPowell Fine Art Gallery, London, UK

2021 – Visionary Art Collective Directory member

2021 – Collective Synergy, Screaming Art Group Art show curated by Sergio Gomez, Chicago, USA

2021- Copelouzous Art Museum, Athens, COv Art Project, Athens, Greece

2020 – Art Box Project, Barcelona on display in Art Box gallery Zurich, Switzerland (Change of location due to Covid pandemic)

2020 – VISIONARY Projects and LOHME Gallery, Sweden

Disrupting Stillness, curated online show of selected international artists

2019 – Art N.23 London gallery/ Hyb4 gallery Prague, Czech Republic, Unseen forms, curated art show

2019 – Schrott Gallery, International show – selected artist for art show CREATING ROOTS, Czech Republic

2019 – Gallery Scherz, TIENE HVIEZD /Shadows of the stars/ Andrea Ehret and Sandra Starling, Bratislava, Slovakia

2018 – La femme, Kolektivní Výstava Arteteraie , Galerie u Zlatého Kohouta, Praha, Czech Republic

2017-2018 – Le Dame Art gallery, London. Curated Abstract Art Show, London, UK

2016 – Collective exhibition of selected Czech Artists, Galerie u Zlatého Kohouta, Praha 1, Czech Republic

2015-2016 – Zámek Hostivice, Cesty k Sobě, Czech Republic

2014 – National Gallery, Veletržní Palác Aukční Salón Výtvarníků, Konto Bariéry, Praha, Czech Republic

2013 – Aukční salón výtvarníků, Konto bariéry, Karolinum, Prague, Czech Republic

2012 – Art Takes Time Square, NYC, Manhattan, International media art show of selected artists, USA

2005 – Projekt Natura 2000, Collective exhibition of selected artists, Germany

2002 – Galerie Matice Slovenskej, MALBY- Collaborative exhibition with Zuzana Hegyesy, Košice, Slovakia

INTERVIEWS AND PUBLICATIONS

Embrace the Magic of Gold that is 24K Feelings – Diplomat magazine

bluebee magazine – volume 2 by bluebeegallery – issuu

Andrea Ehret – Interview – The Flux Review

2021 – Interview ´How they See Art´ with Andrea Ehret

2021 – Magzoid International Art Magazine, article Inspire-Empower, featured artist Andrea Ehret

2021 – Visionary Art Collective, NYC, Artist Interview, Conscious Observation

2021 – Interview ´Piece with Artist´, NYC

2020 – 9 inspirations – Andrea Ehret, online international art platform

2020 – Flux Review Art Magazine, Featured artist- Interview, London, UK

2020 – Artist´s Voice Podcast, Jerry Hardesty with Andrea Ehret

2020 – Plug Muse – A sit down with Andrea Ehret

2020 – Group of authors, The Art of Being Now and Here (one of the authors)

2019 – Diplomat Magazine, Embrace the magic gold that is 24k feelings with Andrea Ehret

2019 – Interesting women of Czechia, Zajímavé ženy Česka, Lifee.cz

2019 – Blue Bee Magazine, featured artist, London, UK

2018 – Czech TV Barrandov, interview – guest of the day

AWARDS/ACHIEVEMENTS

2021 – Awarded one of the winners of The Global Art Awards Tokyo 2021, in the Abstract Art Category.

2020 – Denis Diderot Grant awarded – Selected as an Artist-in-Residence at Chateau d'Orquevaux in France. Also selected as one of the artists whose work will be part of the Chateau's permanent collection in the Diderot Gallery.

2020 – Red Dot Miami Award – runner up artist, Artavita Contest.

2012 – Art Takes Times Square – selected as one of the 40th International Artists for Art Show in New York, USA