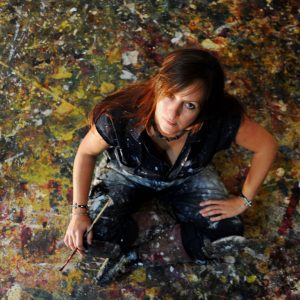 Caia Matheson
Q&A
What inspires you and what is your creative process?

My work sparks from transforming the experiences and feelings evoked in me by radio plays, audio books, literature, song lyrics and poetry. I build such great pictures with these words and translate them into my work to form visual narrative through play with colour and light. Always delighting in intangible juxtaposition, form and negative space.

I am eternally receptive to and inspired by the aesthetic of Wabi Sabi or 'the beauty of imperfection and I love to mix paint mediums and play with the effects. This can be the most exciting part of the creative process: watching for the unfathomable splendours that emerge from the chaos of experimental technique.

I paint with my hands and household sponges onto canvases laid flat on the floor. I begin painting with a specific colour that I have in my mind's eye then introduce other colours to layer the canvas. Like a palimpsest of tones, these layers are then scratched off and layered over again and again. I adore the presence of previous markings that are an inherent part of the composition though they remain just out of reach of the searching gaze.

The subjects in the layers are buried in the dark and exposed in the light spaces. They come out and disappear as lighting shifts and they present varying facets and aspects depending upon one's mood.
I consider each successive layer a generation to populate or depopulate the canvas as needed and create my own world as I go.
I like to create a world within worlds.

As a child, I was fascinated by the Lowly Worm in the Richard Scarry books. I loved scouring each page to seek out that worm and when I found it, I would feel most content - like I had discovered a piece of secret truth that would uncover all the answers to my questions about the universe. There are some Lowly Worms to be found in my abstracts, albeit in symbolic form.
Projects & Collaborations
PROJECTS/NEW COLLABORATIONS

FORTHCOMING EXHIBITIONS/EVENTS

2022 – February/March Raising the Bar Online Art Auction

PAST EXHIBITIONS/EVENTS

2021 – November 4th – 27th – FLUX Exhibition, London, UK FLUX Home – Flux Exhibition

2019 – Turning Tides Festival, Greenwich Peninsula, London, UK

2019 – Women in Art Exhibition @ Elena Shchukina Gallery, Mayfair, London, UK

2019 – FLUX Exhibition, The National Army Museum, Chelsea, London, UK

2018 – Group Exhibition @ Elena Shchukina Gallery, Mayfair, London, UK

2018 – FLUX Exhibition Chelsea College of Arts, Chelsea, London, UK

2017 – Private Exhibition Stefano Ricci, Mayfair, London, UK

2017 – FLUX Exhibition, Chelsea College of Arts, Chelsea, London, UK

2017 – Change & Transformation, Elena Shchukina Gallery, Mayfair, London, UK

2016 – FLUX Exhibition, The Old Truman Brewery, London, UK

2015 – FLUX Exhibition, The Royal College of Art, London, UK

2015 – Connect 2 Colour Exhibition, Lacey Contemporary Gallery, London, UK

2015 – Elements' Exhibition, Gabriel Fine Art Gallery, Notting Hill Gate, London, UK

2015 – 'Lungs' Exhibition Brighton, UK

2015 – Brighton Festival Artists Open Houses, Brighton, UK

2015 – Women's Art Exhibition, Brush Gallery, Brighton, UK

2015 – BOAT Theatre Auction, Brighton, UK

2014 – Artists Open Studios, Brighton, UK

2014 – ACHICA Promotion

2014 – The Other Art Fair, Old Truman Brewery, London, UK

2014 – RISE Charity Auction, Amex Stadium, Brighton, UK

2014 – Painted Europe's first Rainbow, Pedestrian Crossing, Brighton, UK

2014 – Artist's Open Studios, Brighton, UK

2014 – The Other Art Fair, Ambika P3, Mayfair, London, UK

2014 – Private Exhibition Clyde & Co Solicitors, Guildford, Surrey, UK

2013 – Private Exhibition, The Hospital Club, London, UK

2013 – Open Studio, Brighton, UK

2013 – World Aids Day Charity Exhibition, Brighton Dome, Brighton, UK

2013 – Art4Aid Charity Auction, Plumpton, UK

2013 – AAF Battersea, London, UK

2013 – The Other Art Fair, Old Truman Brewery, London, UK

2013 – Down To The Bone, Onca Gallery, Brighton, UK

2013 – Northern Art Exhibition, West Yorkshire, UK

2013 – Oxford Art Fair, Oxford, UK

2013 – Painting selected for book 'A Calendar of Tales Book' by Author Neil Gaiman

2013 – Open Studio, Brighton, UK

2012 – Open Studio, Brighton, UK

2012 – AAF, Singapore

2012 – AAF, Battersea, London, UK

2012 – Group Show, Store Street Gallery, London, UK

2012 – LAPADA Art & Antiques Fair, London, UK

2012 – Art in the Windmill, Rottingdean, UK

2012 – Artists Open Studio, Brighton, UK

2012 – Laughing Dog Gallery, Brighton, UK

2011 – Open Studio, Brighton, UK

2011 – Dame Vera Lynn Exhibition, Horsham, UK

2011 – Off Beige Exhibition, Brighton, UK

2011 – Open Studio, Brighton, UK

2011 – Tsunami Relief Art Auction, London, UK

2011 – Skyline Gallery, Brighton, UK

2011 – BBC Television Spy Drama, Page Eight, UK

2011 – Figuratively Speaking Exhibition, Cambridge, UK

2011 – Open Studio, Brighton, UK

2010 – Blue Dog Gallery, Brighton, UK

2010 – Hove Champagne Festival, VIP Room, Brighton, UK

2010 – ARTY Auction, Brighton, UK

2010 – Open Studio, Brighton, UK

2009 – Cambridge Art Fair, Cambridge, UK

2009 – Open Studio, Brighton, UK

2009 – Glasgow Art Fair, Glasgow, UK

2008 – Edinburgh Art Fair, Edinburgh, UK

2008 – Five at Five Exhibition, Brighton, UK

2008 – 'Man in a Box' Internationally Nominated Film, Cannes, France

2007 – Visual Dialogues: A Group Exhibition M.P Birla Millenium Art Gallery, London, UK

2007 – Group Show 1215 Gallery, Windsor, Berkshire, UK

2007 – Blue Moon Gallery, Tunbridge Wells, UK

2007 – Open Studio, Brighton, UK

2007 – The Affordable Art Fair, London, UK

2007 – Manchester Art Show, Manchester, UK

2006 – The Great Christmas Art Fair, London, UK

2006 – The Affordable Art Fair, London, UK

2016 – Artist's Open Houses, Brighton, UK

2006 – 'Canvas' Group Show, Blanche House, Brighton, UK

2005 – Artist's Open Houses, Brighton, UK

2005 – The Ambassador's Art Prize, Belgium

2005 – The Women's Art Show, Basingstoke, UK

2005 – conTemporary Gallery, Group Show, Hove, UK

2005 – conTEMPORARY Gallery, Group Show, Brighton, UK

2005 – 'You are Here' Caia Matheson Solo Show, Brighton, UK

'2004 – Pendulodic' Sallis Benney Theatr,e Brighton, UK

2004 – The Big Blip Science Art and Technology Festival, Brighton, UK

2004 – Beyond The Level, Brighton, UK

2004 – Urban Art Trail, Brighton, UK

2004 – The Rood Screen, Brighton, UK

2004 – Art @ the Brighton Wave, Brighton, UK

2004 – Art @ the Claremont, Brighton, UK

2004 – Art @ the Oriental, Brighton, UK

2004 – Open House Trails, Brighton, UK

2004 – Artist(e) Exhibition, Brighton Fringe Basement, Brighton, UK

2003 – Tanning Gallery, Group Show, Brighton, UK

2003 – Under The Arches, Group show, Brighton, UK

Exhibition List prior to 2003 available on request

AWARDS/ACHIEVEMENTS

2021 – Luxembourg Art Prize Certificate of Artistic Merit, Luxembourg

2020 – Luxembourg Art Prize Certificate of Artistic Merit, Luxembourg

2019 – Luxembourg Art Prize Certificate of Artistic Merit, Luxembourg

2016 – Luxembourg Art Prize Certificate of Artistic Merit, Luxembourg

2015 – Finalist Connect2Colour Summer Arts Prize, London, UK

2014 – Painted Europe's first Rainbow Pedestrian Crossing in Brighton, UK

2013 – Painting selected by author Neil Gaiman to feature in his book 'A Calendar of Tales'

2004 – Winner Brighton Artist of the Year, UK

2005 – Nominated for the Ambassadors Art Prize, Belgium

2005 – Nominated for the Women's Art Show Basingstoke, UK

2004 – Shortlisted for the Brighton Festival Art Prize, UK