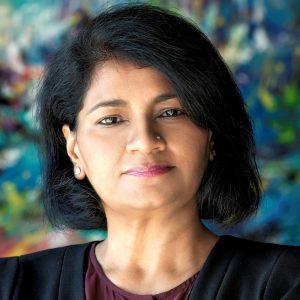 Ella Prakash
Entrepreneur Ella Prakash is an established business woman in the art & business industry with Ella art gallery Founded in 2004, the creative force behind Ella Impressions the fashion couture brand has yet again proven that art is not just for the canvas. The launch of her latest venture Ella Jewellery in 2019 is another testament of what she can create with her art. A mission to create something led to the building of intricate and couture pieces of jewellery stemming from art and using techniques rooted in decades of jewellery construction.
As an artist and business entrepreneur the process for her has been two-fold, creating her line and also learning how to run the entire operation and give art more space. She has been challenged in the various aspects of her life, but her love for art has motivated her to work harder every day and not give up. Her resilience reflects in her work and this new feather in her cap is not the end. She has bigger plans and her journey will continue to be able to create as long as she can.
Q&A
What is your background?

My family comes from a jewellery business for the past seven decades. Indian origin with strong Indian roots, my father Mr. Devji Ramji came to Kingdom of Bahrain in late 1945, to set up his business. He was very ambitious to succeed and without any financial support he began manufacturing gold jewellery designs inhouse. He had a strong vision to succeed, worked firmly to reach his goals, the atelier being at home became a source of learning and observation for me. In 1979, he established his name and he opened his first jewellery retail store in Bahrain. His philosophy was very simple and it helped me to see life clearly and how to act wisely.

My father inspired me in my ways in life. My first encounter with creation, art & design played a pivotal role in shaping me as an artist & designer. I was born and brought up in Bahrain, and at the age of 10 years old, I had a deep passion in art and had a vision to do something in life, but in the presence of the strong Indian ethics, it was quite challenging to achieve it.

My father was proud of me but worried. In his plans I wasn't an artist, that was too much and too vague for a young woman. He wanted the best for me, to settle into the bliss of married life, a life he knew and understood, unlike my art.

My journey began in 2002. I rented a small apartment in a crowded part of town and started art workshops which was an instant success. Within two years, I became financially independent, earning enough to have my own art studio with white walls on a quiet street, where my art would hang. I created canvases to understand and which lay beyond the everyday struggles and conflicts. I wrote my own story and was living it page by page.

Ella Art Gallery was established in 2004. Art, for me, has been a way to express my perception, dreams and aspirations. Most of my artworks are figurative & contemporary. The opportunities were knocking at my door and with the positive mindset, I continued my journey. By 2010, I was a successful artist across the globe, and my work was appreciated and recognized globally. I have exhibited solo, in groups and at International art fairs, in the United Kingdom, New York, Germany, India, France, Singapore and UAE. I have been mentioned in numerous National and International presses such as Blouin Art info, Asian Voice UK, Asian World news UK, Asian Lite International UK, West London Living, Notting Hill & Holland Park Magazine, Gulf daily news, Gulf weekly, Deccan Chronicle and Delhi Millennium post.

Ella Impressions fashion accessories "where art meets fashion" was launched in 2017. I was looking into high-end luxury fashion accessories for both genders; scarves, shoes, clutch bags for women, and bow ties and pocket squares for men. The main objective of the brand was to create a luxury line of affordable Art through Fashion, a line of merchandise that speaks of luxury and easily mesh into the fashion world, where it belongs. The brand is a global success, and can be found in the United Kingdom, UAE and in luxury outlets in Bahrain. Ella Impressions fashion line is an additional beautiful portrayal of the journey of my life through my paint brush.

Ella Jewellery is manufactured in Bahrain, each contemporary design from the collection has gone through a unique conceptual and design journey, from finding its origins in one of my art pieces to finding the right colors and techniques to bring this collection to life, in a most unique and luxurious form. My personal vision behind each jewel is hand-drawn and designed on paper, and then adjusted to what works for each piece. It is then hand-crafted, giving a characteristic human touch, and exhibiting the centuries old craftsmanship that gives our pieces a unique emotional value.

To young business entrepreneurs and artists, I would only say, life is short and we have only one life to live. I work almost 18 hours a day, and the process is tough, but we must pursue our dreams, and embrace new ideas with positive energy to perform your mission. Obstacles teach us painful lessons that make us a better and stronger person. Success doesn't come overnight, we have to earn it, be generous and kind towards others in life, and have determination to thrive for the success.
Projects & Collaborations
PROJECTS/NEW COLLABORATIONS

FORTHCOMING EXHIBITIONS/EVENTS

2022 – Salon International D' Art Contemporain Paris, France

PAST EXHIBITIONS/EVENTS

SOLO EXHIBITIONS

2018 – Art of Living Singapore | Bespoke Art & Lifestyle Exhibition, Singapore

2016 – India Habitat Center, Visual Art Gallery, New Delhi, India

2015 – Nehru Center, London, UK 2015 Debut contemporary

2012 – Renaissance Gallerie, Bangalore, India

2008 – Ella Art Gallery, Manama, Bahrain 2007 Hotel Crown Plaza, Manama, Bahrain

SELECTED EXHIBITIONS

2017 – Global Art Awards Exhibition, Dubai, UAE

2016 – Art Gemini Prize Exhibition, London, UK

2015 – Art Expo New York, New York, USA

2014 – Debut contemporary London, UK

2013 – Brick Lane Gallery, London, UK

2013 – Tads Art Gallery, Delhi, India

2011 – Jain Marunouchi Gallery, New York, USA

2010 – Agora Gallery, New York, USA

2010 – Marzari International Galerie, Hamburg, Germany 2010 Southern Nevada Museum of Fine Art, Las Vegas, USA (Permanent collection)

2010 – Amsterdam Whitney Gallery International of Fine Art, New York, USA

2010 – Ico Gallery, New York, USA

2009 – Jain Marunouchi Gallery, New York, USA

2006 – Formula 1 Exhibition, Bahrain National Museum, Manama, Bahrain

2004 – Children's & Mothers Welfare society Manama, Bahrain

1999 – Bahrain National Art Museum, Manama, Bahrain

AWARDS/ACHIEVEMENTS

2016 – Shortlisted in Art Gemini prize, London, UK

2015 – Shortlist in the 4th International Emerging Artist Awards, Dubai, UAE

2015 – Collective for Women & Children (CWC), London, UK

2015 – Painting auction for charity Arts for India, London, UK

COLLECTIONS

2016 – Robust Developments LTD UK, Property project for interiors Surrey London

2010 – Southern Nevada Museum of Fine Art, Las Vegas, USA (Permanent collection)

2006 – Hamad bin Rashid Al Khalifa (Bahrain International Circuit)

1984 – Doctor Ghazi Al-Qosaibi (Saudi Ambassador to Bahrain) Commission Projects

PUBLICATIONS

2010 – International Contemporary Masters Volume III 2015 New Collectors Book

2015 – ATIMS Top 60 masters Awards 2010 10th International the American Juried Art Salon Awards

2009 – TOPTEN International Art Competition, Women in the Arts, Artrom Gallery Rome, Italy

2009 – 2nd Art Contest, Abstract, Honorable Mention by Art vita.com TH