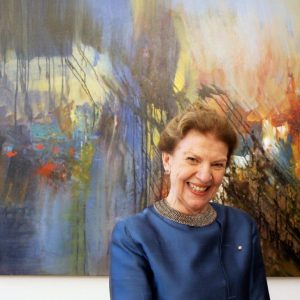 Ernestine Tahedl
Ernestine Tahedl was born and educated in Austria and received a Master's Degree in graphic art from the Vienna Academy of Applied Arts. Following graduation in 1961, she collaborated with her father, Professor Heinrich Tahedl, in the design and execution of stained-glass commissions until she immigrated to Canada in 1963.
Q&A
What inspires you and what is your creative process?

I am inspired by classical music in the last years. Over the years I have searched for this freedom in my work. I explore and try to find the balance between the realistic image and the pictorial values for my paintings. The concept of multiple canvases and panels has always fascinated me.

I hope that spirituality and serenity are integral to my work. Colour and light are additional factors that guide my work. Colour to me is light.

For me, my recent paintings come close to a musical experience and were painted and inspired while listening to classical music, which is reflected in the titles of the works. I feel these paintings are a more direct, human and spiritual expression without confinement of the motif or formal restriction; yet still consist of all those elements that I have explored in my work over the years.

How have you stayed inspired and energized during the pandemic?

At this time of isolation and recollection, in the midst of the COVID-19 quarantine, I felt it was important to take stock of my work in the studio. I found quite a few paintings, which I thought should be scrutinized and changed.

As in the past decade, music is the inspiration for my recent work. Most of the time while overpainting these works, I listened to Anton Bruckner's Sacred Music, his Masses, Psalms and Motets'.

What is/are your favourite medium(s)?

Paintings and stained glass.

How long does it take to complete a piece, and what is the entire process? Do you like working on different pieces at the same time?

It varies a great deal, sometimes in a day sometimes several days…

Name an artist(s) you'd like to be compared to.

Try to be myself.

What other artists have been inspirational to you in your work?

Many old masters, Rembrandt, Goya, Velasquez many more…

What do you hope people feel when they view your art?

Let these musical paintings transport the viewer and fill him or her with emotion.
Projects & Collaborations