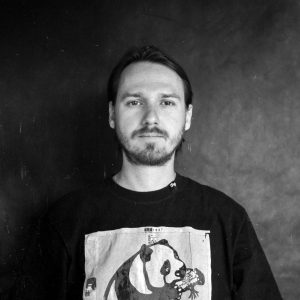 Gábor Szűcs
Q&A
What is your background?

As a child, I attended an elementary art school, whilst attending regular elementary school. On completion of the second degree, I went on to study computer and classical hand drawn animation at a high school in Bratislava. In 2017, I graduated from the Academy of Fine Arts and Design. I have always been interested in digital graphics, videos and animation and used to work as a VJ on different types of events, concerts and live performances.

What inspires you and what is your creative process?

Inspiration comes from various subjects. Nature is very important, as are events, books, travelling, people and music, but mostly my chief inspiration would be from my digital graphics.

Travelling is my passion and whilst doing this, I take many photos in order to remind myself in detail of the places I have seen, and I use these in the production of my works. Sometimes I work on the photos using software, distorting and playing around with the images. The results are often very different than the originals. I also like to use a variety of media including acrylics, oil, spray gun and airbrush utilising lots of water.

What is your favourite subject matter and why?

I enjoy the scope of digital graphics, animations and videos and the ability to meld them together with electronic music. There are very great differences between one subject and the other.

How long does it take to complete a piece, and what is the entire process? Do you like working on different pieces at the same time?

Yes, I do paint several paintings at the same time. I apply thick layers of paint which takes time to dry, and this means that some paintings can take weeks to complete.

Who are your biggest influences and what other artists have been inspirational to you in your work?

I am impressed by contemporary German, American, British and Romanian painters: Albert Oehlen, Daniel Richter, Hubert Scheibl, Julian Schnabel, Marcus Jansen, Peter Doig, Justin Mortimer, Michael Borremans, Radu Belcin, Adrian Ghenie, Zsolt Bodoni. Of course, I love the Baroque movement, and Caravaggio for example, is a huge inspiration. I would also say that New York had a massive influence on my creative process, and the works of Jean-Michel Basquiat, Mark Rothko, Barnett Newman, James Turrell were very inspiring.

How have you stayed inspired and energized during the pandemic?

At the beginning of the first national curfew, I moved to the countryside where I embraced the isolation and silence. When I decided to resume my projects, I went to my studio every day, where I had time to contemplate my work. I also spent a lot of time reading, and in this way, I avoided the chaos and achieved some form or reality. The only thing I missed was travelling.
Projects & Collaborations
PROJECTS/NEW COLLABORATIONS

FORTHCOMING EXHIBITIONS/EVENTS

2023 – New York, USA

PAST EXHIBITIONS/EVENTS

2021 – Punto y Raya – Abstract Art in Motion, Vienna, Austria

2021 – Sérum Light Festival – collective exhibition, Tallós Prohászka István Gallery, Šamorín, Slovakia

2021 – Flánerie – collective exhibition, Gallery Azur Madrid, Spain

2021 – Butterfly Effect – solo exhibition, Crown, Šamorín, Slovakia

2021 – Nová Vlna/New Wave – collective exhibition, TOP Auto Premium Art Gallery, Bratislava, Slovakia

2021 – Elmozdulás – collective exhibition, Limes Gallery, Komárno, Slovakia

2000 – Határtalan Képzőművészet – collective exhibition, Synagogue, Tata, Hungary

2020 – Wormhole – solo exhibition, Mozi, Šamorín, Slovakia

2020 – Határtalan Képzőművészet – collective exhibition, Limes Gallery, Komárno, Slovakia

2020 – Above the Clouds – solo exhibition, NFG Gallery, Dunajská Streda, Slovakia

2020 – Határtalan Képzőművészet – collective exhibition, City Museum, Senta, Serbia

2020 – Next Generation – collective exhibition, Sans Souci, Prague, Czech Republic

2020 – Határtalan Képzőművészet – collective exhibition, Subotica Contemporary Gallery, Subotica, Serbia

2019 – LitFest – collective exhibition, Kulturpark, Košice, Slovakia

2019 – Ausstellung Literatur & Musik Im Spätherbst – collective exhibition, Marktschloss, Wieselburg, Austria

2019 – Organic Moments – solo exhibition, Tallós Prohászka István Gallery, Šamorín, Slovakia

2019 – Membrane – solo exhibition, Crown, Šamorín, Slovakia

2018 – Chronophobia – solo exhibition, Crown, Šamorín, Slovakia

2018 – Entrée V4 – Hybridart Space, Budapest, Hungary

2018 – Entrée V4 – Galerie Vestredu, Plzeň, Czech Republic

2018 – Entrée V4 – Nick Art & Design Gallery, Pécs, Hungary

2018 – Entrée V4 – Rovás Gallery, Košice, Slovakia

2018 – Entrée V4 – Artery Prague Gallery, Prague, Czech Republic

2018 – Entrée V4 – Rómer Flóris Art and Historical Museum Esterházy Palace, Győr, Hungary

2018 – Selection of Fecsó Pál Association – Művészetek Háza, Miskolc, Hungary

2018 – Expo Art – Asociata Artistica, Campia Muresana, Galeria de Arta a Consilului Judetean, Harghita, Romania

2018 – Selection of Art camp – Madaras, Romania

2018 – Young Slovak Contemporary – Austellungbrücke, Landhausplatz. Regierungsviertel, St. Pölten, Austria

2018 – LitFest – Moldova nad Bodvou, Košice, Slovakia

2018 – Winter Salon – NFG, Dunajská Streda, Slovakia

2018 – LitFest – Rovás Gallery, Košice, Slovakia

2018 – Entrée V4 – Museum of Hungarian Culture in Slovakia, Bratislava, Slovakia

2018 – Entrée V4 – Cultural Centre of the Embassy of Hungary, Balassi Institute, Ljubljana, Slovenia

2018 – Entrée V4 – Balassi Institute, Warsaw, Poland

2018 – Irregular Notch – solo exhibition, Pistoryho Palác, Bratislava, Slovakia

2017 – Gap – solo exhibition, Banská Stiavnica, Slovakia

2017 – Triple Impact – Gallery of Michal Černušák, Bratislava, Slovakia

2017 – Formen der Wirklichkeit – Featuring Kaisersteinbruch, Romanisches Kulturinstitut in Wien, Austria

2017 – International Fall Exhibition at MoRA, Jersey City, New Jersey, USA

2017 – Shaping Reality – Featuring Kaisersteinbruch, Kaisersteinbruch, Austria

2017 – Bratislava pro Wratislavia / Wratislavia pro Bratislava – Miejskiej Gallery, Wroclaw, Poland

2017 – Hledání Hraníc – PRFR Gallery, Bratislava, Slovakia

2017 – Glitch Art is Dead – Gammut Gallery, Minneapolis, Minnesota, USA

2017 – Abstract Mind – International Exhibition of Abstract Art – CICA Museum, Gimpo-si, Gyeonggi-do, Korea

2016 – The Exploratorium – San Francisco – CA, USA

2016 – Teesside University – Animex Festival, Middlesbrough, UK

2016 – Moody Center for the Arts – Houston, TX, USA

2016 – ACMI – Miejskie Centrum Kultury, Bydgoszcz, Poland

2016 – Barbican Centre – London International Animation Festival, London, UK

2016 – Glitch Expo – FuBar, Zagreb, Croatia

2016 – Punto y Raya – Karlsruhe, Germany

2016 – Go for Art – Gallery u Prstenu, Prague, Czech Republic

2016 – Mosaik – DOX, Prague, Czech Republic

2016 – Cavo Fest – Trani, Italy

2016 – Reconsolidation – Comfort Station Logan Square – Chicago, IL

2016 – Fresh Art8 – selection group exhibition – Bástya Gallery, Košice, Slovakia

2016 – Fresh Art8 – selection group exhibition, Stuttgart, Germany

2016 – FreshArt8 – finalists, debreceni művelődési központ, Debrecen, Hungary

2016 – Fiktive Option – Tallós Prohászka István Gallery, Šamorín, Slovakia

2015 – Collective exhibition – Turňa nad Bodvou, Slovakia

2015 – Collective exhibition – Plavecký štvrtok, Slovakia

2014 – Illiteráció – Electree, – Tallós Prohászka István Gallery, Šamorín, Slovakia

2013 – Galéria Presents – Gallery Dunaj, Bratislava, Slovakia

2012 – Group exhibition – Odorheiu Secuiesc, Romania

2012 – Group exhibition – Expo Mall, Targu Mures, Romania

2012 – Expozitia Taberei de Creatie de la Madaras XI – Madaras, Romania

2011 – Expozitia Taberei de Creatie de la Madaras X – Madaras, Romania

2011 – Group exhibition – Targu Mures, Romania

2010 – Recycling – At Home Gallery, Šamorín, Slovakia

2009 – Návraty – ZUŠ, Šamorín, Slovakia

WORKSHOPS

2019 – Inclusion Ball – Grupo Recreativo Regufe, Póvoa de Varzim, Portugal

2019 – HEY – Heritage for the European Youth, Alcoutim, Portugal

2018 – DIY Photography – Bitola, Macedonia

2018 – Antigone on Tour, Athens, Greece

2018 – XX. Creative Camp – Madaras, Romania

2017 – Shaping Reality – Kaisersteinbruch, Austria

2016 – VJ Sympozium – Kosice, Slovakia

2016 – VJ Land – Loket, Czech Republic

2016 – Agora Workshop – Vienna, Austria

2016 – Art Camp – Turna nad Bodvou, Slovakia

2015 – Agora workshop – Vienna, Austria

2015 – Touches – Plavecky Stvrtok, Slovakia

2015 – Light Workshop – Turna nad Bodvou, Slovakia

2014 – Electree Workshop II. – Šamorín, Slovakia

2013 – Electree Workshop I. – Šamorín, Slovakia

2012 – Agora – Vienna, Austria

2012 – Street Art as a Tool for Social Messages – Pilsētnieki, Latvia

2012 – XI.Creative Camp – Madaras, Romania

2011 – X.Creative Camp – Madaras, Romania

2010 – Recycling – with Liliane Csuka, At Home Gallery – Šamorín, Slovakia

2010 – Workshop with G. Gurevich for students ZUŠ – Šamorín, Slovakia

2010 – Scholarship at Studio of G. Gurevich – New Jersey, USA

PRIZES

2017 – 1st prize of FreshArt8 competition – Debrecen, Hungary

2017 – 3rd prize in Live video-mapping contest at Live Performers Meeting – Amsterdam, the Netherlands

2016 – Finalist at Art Vision VJing – Moscow, Russia

2016 – 3rd prize in VJing at Signal Festival – Prague, Czech Republic