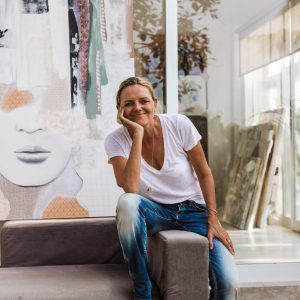 Irene Hoff
Irene Hoff is a Dutch International selling artist.
Artist statement:
In my world, art bridges my inner source of wisdom and the outer world in which I live. My paintings are more than visual creations; they are a means of conveying energy and insights to those attracted to my work by triggering positive thoughts and aspirations. The canvas becomes a personal totem to the one who chooses it. It empowers to look deeper and access the essence of who we truly are, giving inspiration to our journey.
Q&A
What is your background?

Background, that is an interesting question. To me it is what you become throughout life that makes who you are, kind of a rediscovering process. Let's say I did not study art, it was just something that evolved throughout the years, and I said yes to it. Next to that I am a healer, and very concerned with the human journey, and love to make the planet a better place for humanity, trying to support it as much as I can.

What inspires you?

I am inspired by nature, by people, but the vulnerability of people, and their authenticity. I think the more open we are to possibilities, the more we can grow into being who we are meant to be.

What is your favourite subject matter and why?

Feminine figures and animals. I think we have lost track of the feminine qualities we have as humans, hence the disbalance we are currently facing. Feminine qualities such as love, nature, flow, abundance, sovereignty and empathy. The more we embrace this, the more I feel that we will rise up. I use animals because they are easy to relate to and evolve beautiful emotions and energies within us.

Who are your biggest influences?

Not sure if I have people that inspire me deeply when it comes to my art.

How have you stayed inspired and energized during the pandemic?

I have been inspired and energized even more than before. I feel we need support and energy to keep our frequency high, so I have been putting more of that in my art to help us rise above it all, and to stay sovereign in making our own decisions and believing in our own truth, the power from within.

Where do you live?

I live in Bali, Indonesia for 10 years now, with my 2 daughters now 18 and 15 years old. I bought a piece of rice field land, and built my house and moved in 6 years ago. We have a beautiful green area in front of the house where we have chickens, rabbits and ducks. It is amazing to be so close to nature and the sea, and to be part of the Bali spirit. Not always an easy ride but for sure many stories to tell, which is in the end the most important thing in life.

What is/are your favourite medium(s)?

Mixed media on canvas, using acrylic and paper prints which I create myself.

How long does it take to complete a piece, and what is the entire process?

It takes around 4-5 days. I usually first make a sketch on the computer and that becomes my base for the art piece. I use that to project the outline on the canvas and then I start filling it all on with paper and with paint. I love to work with texture and thick layers of paint.

Do you like working on different pieces at the same time?

Yes, I often work on 2 pieces so there is time for them to dry before continuing with the next layer of paint.

Name an artist(s) you'd like to be compared to.

I don't have any.

What do you hope people feel when they view your art?

I hope they get a moment of being 'nowhere', being 'nobody', just being and enjoying who they are, observing the emotions that show up and let them be, either joyful or maybe sadness, it is all ok, let the energy pass.

Eventually I hope my art gives perspectives and hope to people, to believe in themselves, to believe in the wonderful magical beings that they are, the creators they intended to be on planet Earth. We are so powerful. I simply like people to remind and remember, feeling it from within.

I also have a page called @innertotem on Instagram, if people would like to see more of this kind of wisdom and quotes.
Projects & Collaborations
PROJECTS/NEW COLLABORATIONS

In the near future I will be working on 'angel cards/oracle cards', cards that will share a message to the people. I will be using my feminine art figures combined with wisdom quotes/messages for the day. Stay tuned for more. Next to that I am exploring to make sarongs with my art printed on it (Bali inspired).

FORTHCOMING EXHIBITIONS/EVENTS

PAST EXHIBITION/EVENTS

Selection of Exhibitions

2021 – Savaya Day Club Bali, Indonesia (solo)

2019 – The silent observers of the world, Deus (solo)

2018 – Off the Wall / Art Restaurant – Bali, Indonesia (solo)

2018 – The Silent Observers of the world – Deus Ex Machina – Bali, Indonesia (solo)

2017 – NEGEV Fine dine & Art Restaurant, Jakarta – Indonesia (group)

2016 – Pullman Hotel / Dreamland – Bali, Indonesia (solo)

2015 – Stones Hotel (signature hotel from Marriot Group, 2015) (solo)

2014 – World of Beast / Taksu Gallery – Bali & Singapore (solo)

2014 – Art Festival Irene Hoff / Stones Hotel Marriot Group – Bali, Indonesia (solo)

2013 – Four Seasons Hotel, Jakarta Indonesia (group)

2013 – Heroic / Taksu Gallery – Bali & Singapore (solo)

2013 – Kudeta Beach Club-Restaurant, Bali (solo)

2013 – Metis Restaurant & Gallery, Bali (solo)

INTERVIEWS

Irene Hoff Interview (fumogallery.com)

Hello Honey! We meet Irene Hoff – Bali's Artist in Residence famous for her feminine canvas creations

PUBLICATIONS

100 Artists of the Future, by Contemporary Art Curator

http://www.contemporaryartcuratormagazine.com/100-artists-of-the-future

AWARDS/PRIZES

2017 – Rise Art Prize – Nominated- London, United Kingdom

2016 – Leonardo di Caprio signature on one of Orangutan Painting- Sumatra, Indonesia