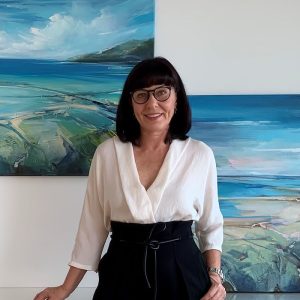 Irina Laube
Q&A
What is your background?

Growing up on the Black Sea coast, I recognised the world as a colourful landscape at an early age. The observation of colours and shapes and the play of both in the landscape, became my passion and my purpose in life.

This was followed by a 5-year stay at the Ajwasowski School of Art in Feodosija, Crimea. At first, my work showed clear references to realism. After graduating from the art school, my interest in contemporary innovative art came to the fore.

What inspires you and what is your creative process?

I take the ideas and inspirations for my work from nature and its various facets.

The process of image creation is based on coincidence and deliberate development. The focus of my work is on the colours, structures and forms, which I want to realise in a certain harmony utilising different techniques. Not to reveal too much, not to imitate, which also means not to dictate.

Does it take a lot of thoughts leading up to the creation or is it spontaneous?

My works are almost always created spontaneously. Often, I stand in front of an empty canvas, look inside myself and then I start.

When do you consider a work complete?

For me, a work is finished when it radiates a mood through light or colour composition and when I feel like looking at it for a longer time.

What other artists have been inspirational to you in your work?

Ivan Aivazovsky, because, at that time, before I graduated from the art school he founded in the 19th century, I stood admiringly in front of his works during almost every break.

The same goes for impressionist paintings, such as those by Claude Monet, with the most diverse moods created by the light.

What is/are your favourite medium(s)?

I like to work with acrylics. What I like about acrylic paints is the short drying time. Especially because I paint my works in many layers. Before the next layer is applied, the previous one should be dry. With oil painting, this is relatively difficult because of the long drying time.

Do you like to work on different pieces at the same time?

No, I usually work on one piece. From the beginning to the end, there is a relationship with the work that I don't want to interrupt.

What do you hope people feel when they view your art?

I like nature in all its facets and would like to bring the viewer a little closer to nature with my work. I want people to feel how beautiful and fragile our planet is.
Projects & Collaborations