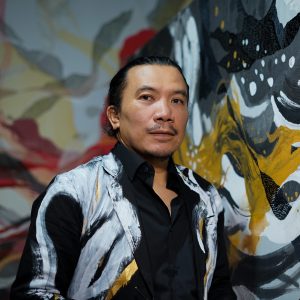 John Martono
Q&A
What is your background?

I studied textile and craft at the Faculty of Art and Design, Bandung Institute of Technology in Indonesia.

What inspires you and what is your creative process?

Nature and the interactions of life are my visual inspirations. I watch everything in every step of my life. Working in my studio and everywhere I go keep my inspirational energy alive and myself inspired to create.

What is your favourite subject matter and why?

The dynamic of life is my subject matter, every second inspires me to build and develop my thinking about my work processes. What we see now… is the positive optimism of the future as A JOURNEY OF HAPPINESS.

Who are your biggest influences?

My parents, they encouraged me since childhood knowing my active interest in the arts. They took me to the galleries and gave me art materials to explore my passion for art.

Leonardo Da Vinci... I love what he thought and created.

How have you stayed inspired and energized during the pandemic?

Yes SURE, during the pandemic the most important thing was to keep an optimistic SPIRIT and work in my studio every day. I kept a daily routine; start work every morning, play sport, and cook etc, everything positive.

I build and develop work in two and three dimensions. I do some digital imagery simulation to develop my imagination. I Just do and do again to refine my subconscious thoughts.

Honestly, for me as an artist, I have many experiences and that makes me feel stronger than any pandemic situation.

What is/are your favourite medium(s)?

Painting, embroidery and freehand sculpturing.

How long does it take to complete a piece, and what is the entire process?

It depends on the size, but 1 month on average and more for larger pieces. I also have a back catalogue of past work.

Do you like working on different pieces at the same time?

Yes, sometimes.

Name an artist(s) you'd like to be compared to

I don't have any.

What subjects do you pursue and why?

The subject of Happiness...

Because happiness is not about the goals, for me, it is about the process of how we feel in every step of our lives.

What do you hope people feel when they view your art?

The journey to happiness.
Projects & Collaborations
PROJECTS/NEW COLLABORATIONS

FORTHCOMING EXHIBITIONS/EVENTS

PAST EXHIBITIONS/EVENTS

2021 – Art Jakarta, Jakarta, Indonesia

2021 – Painting Exhibition, Yulindra Gallery Jakarta, Indonesia

2021 – Muka Tembok Exhibition, Museum of Toy Jakarta, Indonesia

2021 – Art Taipei, World Trade Center Taipei, Taiwan

2021 – Big Bad Art, Kuala Lumpur, Malaysia

2020 – Sunrise Art Gallery, Fairmont Jakarta, Indonesia (solo)

2019 – Bermuda (Art & Stories), Gedung Informasi Pariwisata, Singkawang, Indonesia

2019 – Hilton 100th Anniversary 3D Plastic Bottle Exhibition, Hilton Bandung, Indonesia

2019 – Pameran Seni Rupa Nusantara Galeri Nasional, Indonesia

2019 – Tusk Gallery Melbourne, Australia (solo)

2019 – Affordable Art Fair, Royal Exhibition Building Melbourne, Australia

2018 – Ladder Art Space, Victoria, Indonesia

2018 – 3D Plastic Bottle Exhibition Hilton Bandung, Indonesia

2018 – Pameran Besar Seni Rupa, Balai Kota Batu, Indonesia

2018 – XYZ ART_UN, Gedung Gas Negara 2018, Indonesia

2017 – Hilton Bandung, Indonesia (solo)

2017 – Spiritualitas dalam seni rupa, Lawang Wangi Bandung, Indonesia

2017 – Exhibition Creative Hub (solo)

2016 – Affordable Art Fair, New York, USA

2016 – Art 16, London, UK

2016 – Art Basel Miami, USA

2015 – Lalanta Fine Art, Bangkok, Thailand (solo)

2015 – Affordable Art Fair New York, USA

2015 – Affordable Art Fair Hong Kong

2015 – Bazaar Art Jakarta, Indonesia

2015 – Le salon de Lahd, London, UK

2015 – Affordable Art Fair, Singapore

2014 – Painting on silk with hand stitching, Tusk Gallery Australia

2014 – International Embroidery Art Exhibition, China

2014 – KIAF\13 Korea International Art Fair 2014, Korea

2014 – Affordable Art Fair Singapore, Singapore

2013 – Contemporary Weaving Exhibition, China

2013 – Painting on Silk, Grassi Museum Berlin, Germany

2013 – Royal Cun Lan Hotel Kuala Lumpur, Malaysia (solo)

2013 – Bentara Budaya Jakarta, Indonesia (solo)

2012 – Contemporary Craft Exhibition, National gallery, Jakarta, Indonesia

2011 – Fiber Art exhibition, Jogjakarta, Indonesia

2010 – The Reflection of Indonesia Contemporary Art, Lawang Art, Bandung, Indonesia

2009 – Arts Exhibition, North Art Space, Jakarta, Indonesia

2008 – Asian Fiber Art Exhibition, Bentara Budaya Gallery, Jakarta, Indonesia

2007 – The 5th Asia Fiber Art Exhibition, Okinawa, Japan

2007 – The World Trienalle Fiber Art, Poland

2005 – Fiber Art Exhibition, Kita Gallery, Bandung, Indonesia

2004 – Fiber Art Exhibition, Bentara Budaya Gallery, Jakarta, Indonesia

2003 – Mapping Asia Exhibition, Taiwan

2002 – Contemporary Craft Exhibition, Jakarta, Indonesia

2001 – Five Fiber Art Artist Exhibition, Lontar Gallery, Jakarta, Indonesia

2001 – Art and Craft Exhibition, Potsdam, Germany

2000 – Kyoto Fiber Art Exhibition, Japan

1999 – Art Forum, Bandung, Indonesia

1998 – Fiber and Clay, Bandung, Indonesia

1997 – Fiber Art Story, Bandung, Indonesia

1996 – Drawing Exhibition, Bandung Institute of Technology Gallery, Indonesia

1996 – Contemporary Fiber Art Exhibition, National Gallery Jakarta, Indonesia

1995 – Asian Fiber Art Exhibition, Taegu, South Korea