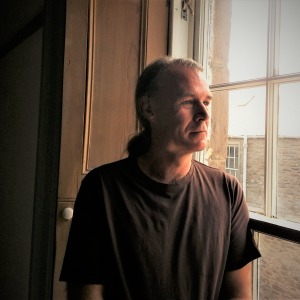 John Slavin
Q&A
What is your background?

My childhood was spent in the central lowlands of Scotland making art since the age of three. After graduating from Edinburgh College of Art in 1980 I became a crofter in Aberdeenshire and Banffshire, where I studied sculpture and Irish traditional fiddle music. Having strong links with French language and literature, I went to Paris and joined a Scots singer-songwriter playing music and travelling Scandinavia. Love of the mountains and my paternal heritage drew me north to the Isle of Skye in 1993. My surname 'Slavin' is probably of Old Irish origin denoting 'sliabh', a mountain. The splendid stature and magnificent bearing of the Scottish Highlands, home of my ancestors, finds heartfelt expression in the core of my work. Through very dark and wild winters the Cuillin of Skye dominated creativity, land-and-seascapes. During summers, pilgrimages were made to the south of France for brighter and more vibrant paintings of the Pyrenees Orientales. Since 2011 part of every year is spent in Occitania, working as a Scottish artist, exhibiting in France and the UK. My residence is Breakish on the Isle of Skye.

What inspires you and what is your creative process?

'Distant horizons and nature; rock, water and cloud form…'

13 Sept 2020

… Those roads in the high pines wynd round on themselves – sometimes degenerating into paths stony and too steep, ploughed by bull dozers, smashed thru forest slopes – sometimes dead ends. But some faculty of thought, akin to the territorial scent markings some deer employ, or the pissing upon of dogs, lays itself down. Even over the years and decades of years, I know I have been here. Sometimes I even tire and weaken to the extent that I dread the continuance of something that was once an inspiration, dread watching it turn into a skeleton for boar, vulture and winter to eradicate.

But the flesh of life is paint. A mucous flow, more, a dairy richness comes, not thru the brush or the moving muscle, eye and brain, but deeper, more nourishing. It's of the nature of mother's milk or the creation of sugars from light we find in trees. Oil paint takes the image in process on towards a finalization that the deepest moment of the artist's being must recognize. The speed of thought is no less mercurial than the human eye. An image can be perceived almost immediately. This proximity to zero, in the blank canvas or page, in the blindness of the absence of any particular painting in the time before it exists is total crisis. Throughout the time of this crisis and pregnancy, when the intellect maps, extrapolates and reasons, the emotions also are at work, riding waves and weathering storms. Existing images alter the as yet unborn image. Planets in alignment may push the image toward realization. The image may come unbidden, as a primal bodily function which is intolerant of screw caps on paint tubes and turpentine bottles.

When the painting is first touched on the easel it takes over the life, the brain and soul, of the painter. No mental illness or religious or nervous episode can exceed this capacity. At the first brush stroke one paints everything. The all. One becomes. From then on in, one descends into forms: similes, metaphors, happy mistakes, tragic reminders of how transcendence came to be necessary.

There is a drawing on the table beside the easel. A design, strong on the harmony of positive and negative space. A line drawing, almost transparent in its purity of information. Strong lines cut into the diamond void. Two trees left three trees right. How far I walked over crests into gorges to find this framework in space for the distance. Time and distance. Reverberating in the wood and tumbling in the sky life itself works through onto the page as the soft pencil dictates. Nature's grace has placed me here at this potent theatrical curtain which provides me with that stillness in activity which is the line being drawn. It's all done without thinking. There is trepidation at the adventure. There is a weak and ingratiating attitude adopted by the spirit in the presence of chance. Obliteration results as easily and is counted, not ignored, as easily as achievement might be realised. The drawing is judged instantly as being of an extreme. It is only line, yet linear information includes the space that is given place by the line. That space remains blank, infinite, but the same blank infinitely is now inclusive of cloud, tree, mountain.

So, at the table, having been selected from two weeks' work of thirty-nine drawings, this one alone is open. The extreme is in fact central. Centrality gives balance and harmony, and it is this, rather than shading into tone or lightening into tints to give the illusion of light and shade, that makes the emptiness full. The lines, now on the canvas create and dictate, by their linear harmonic, a colour harmony. This all floats into white. Transpositions of atmosphere, from several days' study in the gorge, permit an all-purpose light quality, towards sunset, so that the cream and oil of the paint, to which a gloss medium has been added, takes into itself the textures of distant luminous air, the swishing blue and emerald of pine needles in bunches on long branches, the rough and smooth of the forest blanket spread over hill forms.

There is plenty of movement. Somehow, after two weeks of test and failure the moment has arrived. As if forkfuls of nourishment the brush-loads go onto a hungry and receptive canvas. The branches don't dissolve into the sky. Three attempts and the forest, lighter than the massive pine trunks between which we see it, settles, as if from a million-year geo-bio-logical dream, into present repose. Very light olive green with amber shades sometimes, in vertical strokes, on mountain flanks. The same amber, with strokes of aubergine on the green-black, white tree trunks. Black and white. The two extremes. Their inclusion makes definite pronouncement. There is very little black. White is omnipresent. It's the white of the black beginning. The paper of the drawing. Cloud form, tree and mountain form know the very substance of this white, they are made from it, the eye welcomes its gentle soothing shining. There is no violent electrical colouring, no threat of breakdown. The drawing is painted out. Subtlety replaces it in paint.

This is how I painted thirty years ago using powder paint poured into egg yolk in the plastic compartments of an ice cube tray. I painted on un-primed cardboard. It was with the same exultation that I had yesterday that I remember loading the brush and applying the egg yolk paint thickly. Statements and gestures that are contained in the beyond in our character from archetype, in our being at its very most simple, may use paint and brush as vehicle. These are innate, universal and original. It is as if the gesture of a branch, the billowing of a cloud, themselves have painted.

What is your favourite subject matter and why?

Mountains because they have a certain untouchable nobility and planetary standing.

Who are your biggest influences?

The Canadian Group of Seven; the Edinburgh Colourists and the School of Painting and Drawing in the 1970s directed by Sir Robin Philipson (1916-1942); the tutelage of artist Denis Peploe who guided me to France. In music the songs of childhood friend David Guthrie and the poetry of Robin Williamson; in storytelling the narrative art of Scots Traveller Duncan Williamson.

How have you stayed inspired and energized during the pandemic?

My soul-mate, the Scottish storyteller Linda Williamson, sustained me in Edinburgh, and I was able to create large scale paintings (80x100cm); re-connecting with the masters Titian, Pieter Bruegel the Elder, Jacques Louis Davide and John William Waterhouse. I created four figurative works of Old Testament and Greek mythology; a contemporary, cinematic setting of the Crucifixion and an 80x100cm acrylic painting of the wonder tale Jack and the Water at the World's End by Traveller storyteller Duncan Williamson. Linda connected with The Artists' Pool in London who were champion organisers of exhibitions at the Espacio gallery and The Dundas Street Gallery in Edinburgh.

What is/are your favourite medium(s)?

Acrylic or oil on canvas.

How long does it take to complete a piece, and what is the entire process? Do you like working on different pieces at the same time?

Sometimes, rarely, a piece can be created in one night. Other times a painting can take several weeks. No, I do not work on different pieces at the same time.
I have written about the entire creative process in letters to my friend and colleague Linda Williamson in Edinburgh, and in journals over the past ten years working in the Pyrenees Orientales. Here is an excerpt from a letter written to Linda on 13 September 2020 from Alet les Bains, where I'd newly arrived after the emotional turmoil of pandemic lockdown.

'On the long road are many fruitless years. Detours where one looks too closely and finds no space. Thoughts in which one is taken to using natural elements as tools for intellectual games. Although the intentions are concerned with aesthetics the practice is qualified by a remove. It is immediacy that concerns a response to technique. By choosing the simplest and most immediate means a painting may be done in a few hours. Years of being lost in complications often demand a false accounting in which work and preparatory study oppress the facilities. It is more natural to realisation to let go the very fibre of accretion, those pages of book and moss, dried wood, flowing water in which one sees part not whole. It is the easier, less complicated vision that can support vital immediacy and approach a harmonious whole. Walking through forest and gorge, over mountain, the eye never ceases to search. The ideal (invented in the studio) landscape is a Frankenstein monster. Pages of study cannot unite to make life. Nature is the master. And presents as such.
Yet to paint out of doors, plein air, is too natural. A selection must still be made, impositions of paint upon the manifest moment is a confrontation. Better to reduce, to simplify with page and pencil. Better to move thru a landscape and know the years and find the stars and the fountains than to find a painting in the landscape itself, as if nature was studio and workshop. If one retreats into drawing for the sake of painting, if one uses paint naturally, then drawing is sufficient preparation. One line drawing. Colour is subordinate to memory. Subtlety exists more and more as we bed colour on white. Tranquil and comfortable being exist even where we most fear the electrical monster of the brain and the artificiality of art. The complicated will not choose simplicity. It is a matter of being. Being an artist art is my nature. To be vital and immediate one must venture. When the venture is successful the response of the kind and considerate is already contained in the image. It is the venture that is demanding, an urge that must be acted upon. The appreciation should be a pleasure, pure and simple.'

Name an artist(s) you'd like to be compared to.

Scottish artist and writer Alasdair Gray (1934-2019)

What subjects do you pursue and why?

The subjects I pursue are my experiences of wild nature as I walk the hills, the river paths and the fresh woodland ways of southern France. Back in Scotland I am constantly viewing exhibitions of the Masters and celebrated artists in Edinburgh's international galleries. I am a collector of art history books, and hunting for these are always an exciting pastime in charity and antique book shops. Subjects of mythology and traditional story feature in my dreams and provide an endless source of inspiration for my creative work. Through myth and traditional tale, together with my close artist friends in Occitania and my storytelling mates in Scotland, it is possible to share the most wonderful journeys of astral and cosmic dimensions!

What other artists have been inspirational to you in your work?

I love the distortion in the landscapes of Chaїm Soutine and have visited Ceret simply to look at the door behind which he lived and to paint the snow and cherries of the landscape. I love the clarity and light of the naturalism of some of the Dutch landscape masters; Vincent van Gogh (1853-1990). I have been profoundly influenced by Lawren Harris (1885-1970) and his fellow Canadian landscape painters. There are among the Norwegians some painters of very beautiful landscapes; Edvard Munch (1863-1944). And Scottish landscape painting must be taken into account; the Glasgow Boys (1880s) and the Scottish Colourists (1920s).

What do you hope people feel when they view your art?

This was written in my 60th Birthday Notebook:

Invisible Humanity

The people who have attended my exhibitions can be compared to those in the wilderness who have passed through the scenes I have painted. To cross a river, to be enchanted by the features of an upturned tree trunk, to halt on the way in order to practically assess or to willingly fall under a spell does not differ much if the experience is in a gallery or at a mountain foot.
The artist also is invisible. His brushwork hides him. Yet he knows that he shares the same natural energy of the river in the gorge, with the viewer. We are part of an eternal. The history of the humans who are invisible in my landscapes permits greater resonance in story and song for the presented work unpainted. I hope my static images will detain them for a moment before they pass by. And that they may carry something of my paintings away with them in their hearts.
Projects & Collaborations
FORTHCOMING EXHIBITIONS/EVENTS

Figurative art selected for online exhibitions.

22 September – 13 October 2022 – The Scottish Storytelling Centre, 43 High Street, Edinburgh EH1 1SR – Exhibition and presentation of new work; 'Land of the Ravens' including animated film of John Slavin's narrative art by Christine Martin/Scotlandmusic and John McGeoch, to celebrate The Year of Scotland's Stories.

PAST EXHIBITIONS/EVENTS

2021 – 12th June – 29th August – Aberdeen Artists Society

2021 – 21st May – 20th June – The Society of Scottish Artists

2016 – Andorra online exhibition. 'Andorran Mountains on Paintings of Scottish Artist John Slavin 05.05.2016'

INTERVIEWS

Link to artist interview, exhibition 'Times like These' by The Artists Pool (London) in The Dundas Street Gallery Edinburgh EH3 6HZ, 21-29 August 2020. https://smartleisureguide.wordpress.com/2020/08/29/the-artists-pool-showcase-an-imaginative-response-to-lockdown-in-times-like-these-dundas-street-gallery/

Please see my website for new work images and for archival paintings from the past ten years in my Portfolio  www.john-slavin.co.uk

ARTICLES

Reviews of John Slavin's paintings include articles: 'Four Seasons' by Roger Cox in The Scotsman Magazine (24 September 2011); 'Painting as Ecology' by Professor Monika Kostera (Jagiellonian, Durham and Linnaeus Universities) in Occupy Management (Oxford:  Routledge, 2014); 'The Painter John Slavin' by Dr Rémi Mogenet in La Tribune de Genève 18 October 2018.