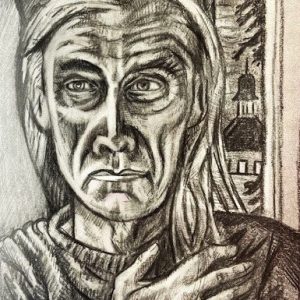 John Slavin
Q&A
What is your background?

My background is Central Scotland, which was once Stirlingshire; iron foundries, breweries and petrochemical works. This has now disappeared. Yet the landscape, no longer so industrial, is bonny. Views over the Firth of Forth and away to Linlithgow, Dunfermline, Stirling itself, all of which were once capitals of Scotland, seats of kings. I went to a Catholic high school and then to study Drawing and Painting at Edinburgh College of Art.

What inspires you and what is your creative process?

I find that the poetry which is already apparent in this world, seasonal change, the sky, rivers and certain pathways to and through these natural elements, inspire me. My creative process depends on intimate response to phenomena. I see rock form as already drawn, scored, sculpted, and sunsets seem to correspond directly to brush and colours. I feel my way in response from my heart to nature in her relation to me as greater than art.

The foundation of my creative process is drawing. In pen and pencil, I make drawings in sketchbooks when I am on long walks in search of certain potent places. I sit and spend two or three hours on a preparatory drawing I always s provide myself with a selection of drawings, one of which will say 'paint me!' I then sit at an easel in my studio and use acrylic or oil paint on canvas and sometimes work into an acrylic painting with several layers of diluted oil paint to add nuance, detail and depth.

What is your favourite subject matter and why?

Landscape. Since infancy I have seen that the distance is continually unfolding. The act of walking in landscape unavoidably leads me to a place where I will recognise nature as accessible to my drawing skills. It is this silent conversation between the human and nature; for example, his paint lines on paper and the wave lines in the river, which allows me access to a state where humanity and its traces -- architecture, anatomy, agriculture -- are absent and I can look into the beauty of nature, as if she were the artist. I love landscape because it is intimate and infinite and possessed of poetry.

Who are your biggest influences, and why?

Every artwork contains relevant information. But my biggest influences are David Hockney, as a contemporary English landscape painter, especially his recent Yorkshire works; and Wang Meng the Chinese painter who lived during the Yuan Dynasty. Because of their truth and clarity in practice these artists have had the most profound effect on my art.

How have you stayed inspired and energized during the pandemic?

Art cannot be put aside and sometimes thrives in plague and war. Governments cannot really legislate for or against art. I have managed to walk and sketch and paint in places where there are no other humans, and despite feeling sad that libraries and galleries have closed, see no evidence of 'pandemic' in my remoter hills. This regard as a great privilege.

What is/are your favourite medium(s)?

I think oil paint has to be my favourite medium. The quality of the colour seems to be higher than any other paint and it combines the best qualities of other media: the softness of charcoal, the jewel like light/depth of watercolour, the removability of pencil.

How long does it take to complete a piece, and what is the entire process? Do you like working on different pieces at the same time?

I like to spend as much time as possible on any given piece and yet try to retain the immediacy of my first thoughts. The act of looking at a painting is nearly instantaneous, and it is into this first instant that all the artist's work should go. I work on one piece at a time. If I hit problems the nature of my time at work changes radically in the struggle to redeem the painting.

I begin with enlarging my drawing in pencil on paper into an outline sketch on canvas. This is usually done in a diluted acrylic but sometimes in charcoal. This probably takes me a day although I complete the preparatory drawing on canvas in one sitting. Then I spend time studying the lines on the canvas referring to colour notes and my own visual memories. Next step is to work into the areas with paint, sometimes acrylic for the sake of speed in drying and this period is really the heat of the matter when grace and harmony can appear. Any further work needed can be done in oil and turps, to bring things together in a linear delicate way after the muscle work of getting the acrylic to grade and texture and surprise. This usually all gets done in less than four days.

Name an artist(s) you'd like to be compared to.

I'd like to be compared to Edvard Munch the great Norwegian painter. I admire and appreciate the way he made beauty in the face of an overwhelmingly emotional life. I like the depth of his Scandinavian landscapes, feeling that Norway is the most beautiful country in the world, and see in his brushwork an expression of the flow of life and consciousness. His colours could only come in contrast to t a dark cold winter and it's interesting to see how he values colour in contrast to the French impressionists' extravagance.

What subjects do you pursue and why?

I love forest because I see in trees an otherworld, immanently alive and populated with beings who gesture and dance, are clothed and elevate themselves to the sun. I love rivers because from the shore I can study the form, and render stationary in drawing, the movement of wave. Little waterfalls and pools, the way a stone can separate the flow, the crest of wave and the way it falls into itself can be captured by the pen. if one can concentrate one's attention in order to perceive the dominant pattern in the flow. I love cloud-form as a subject because the emotional heights of life are resonant there. Clouds are a landscape in themselves. Sometimes intensely coloured, sometimes very changeable. Clouds can display vivid colour, contrast and yet sometimes dissolve the earth of the mountain with obscure colourless erasure of line. So, forest, river, cloud are suitable subjects to pursue to a beyond; Taoist, Quantic, Poetic.

What other artists have been inspirational to you in your work?

I find that many great artists are outside my ambition and can yet inspire. I love many English landscape painters, particularly Turner and Constable. And I like Paul Nash immensely. I find a delicate truth which combines surrealism and expressionism in their work. Making landscape not picturesque but relevant to the dream of the human soul, a place where truth and wisdom reside. Constable in particular is an inspiration. I find that my understanding of his method reveals to me a universal figure who spans the Dutch masters and Jackson Pollock alike. I think that a life of work in drawing produced something very major in his later six-foot paintings. To me he is a master of space and scale and in this is incomparable.

What do you hope people feel when they view your art?

I would hope, and this is my highest hope, that a feeling of familiar pleasure amplified would be an initial reaction followed by a later experience of illumination when a view in nature might for a first time appear as if seen through my eyes, represented in my method of painting.
Projects & Collaborations
FORTHCOMING EXHIBITIONS/EVENTS

PAST EXHIBITIONS/EVENTS

2022 – (6th – 31st October) – The Scottish Storytelling Centre, 43 High Street, Edinburgh, EH1 1SR. Exhibition and presentation of new work; Land of the Ravens includes the animated film 'Twa Ravens' of John Slavin's narrative art by John McGeoch, Christine Martin and Jack Evans www.scotlandsmusic.com celebrating Scotland's Year of Stories.

2020 – Untitled: Art Exhibition, The Artists' Pool, Mayfair, London

2020 – Times Like These, The Dundas Street Gallery, Edinburgh

2020 – The Resilient Self, Espacio Gallery, London

2019 – Painting the Wonder Tales, The Scottish Storytelling Centre, Edinburgh

2017 – The Skye Suites, Resipole Fine Art Studios, Acharacle, Argyll

2017 – Winterescence, Doubtfire Gallery, Edinburgh

2016 – Par Nature, Galerie Grand Rue, Bugarach, France

2016 – Andorran Mountains on Paintings of John Slavin http://all-andorra.com/john-slavin/

2015 – Visual Arts Scotland: Transforming, Edinburgh

2015 – Royal Scottish Academy: Open Exhibition of Fine Art, Edinburgh

2014 – John Slavin: New Works, The Sutton Gallery, Edinburgh

2014 – End of Winter, Doubtfire Art Gallery, Stockbridge, Edinburgh

2013-2014 – Royal Scottish Academy: Open Exhibition of Fine Art, Edinburgh

2013 – The Sutton Gallery: Winter Exhibition, Edinburgh

2013 – Pyrenean Landscapes, The Sutton Gallery, Leicester

2013 – The Art of John Slavin, The Sutton Gallery at Collingwood College, Durham University

2013 – A Doubtfire Winter, Doubtfire Gallery, Edinburgh

2012- 2013 – Royal Scottish Academy: Open Exhibition, Edinburgh

2012 – Salt River Sacred Mountain, Scottish Storytelling Centre, Edinburgh

2012 – Imaginary Summers, Doubtfire Gallery, Edinburgh

2011 – Cascades of the Upside-Down Mountain, Scottish Storytelling Centre, Edinburgh

2010 – Emergence, Eastwood Park Theatre, Giffnock, East Renfrew Council

2009 – Original Skye Paintings, Plockton Hall, Lochalsh

INTERVIEWS

Link to artist interview, exhibition 'Times like These' by The Artists Pool (London) in The Dundas Street Gallery Edinburgh EH3 6HZ, 21-29 August 2020. https://smartleisureguide.wordpress.com/2020/08/29/the-artists-pool-showcase-an-imaginative-response-to-lockdown-in-times-like-these-dundas-street-gallery/

See 'The Look that has Seen' illustrated interview of John Slavin's wonder tales by Dr Rémi Mogenet in  http://www.john-slavin.co.uk/portfolio 13    

Please see my website for new work images and for archival paintings from the past ten years in my Portfolio  www.john-slavin.co.uk

ARTICLES

'Four Seasons' by Roger Cox in The Scotsman Magazine (24 September 2011);

'Painting as Ecology' by Professor Monika Kostera (Jagiellonian, Durham and Linnaeus Universities) in Occupy Management (Oxford:  Routledge, 2014);

'The Painter John Slavin' by Dr Rémi Mogenet in La Tribune de Genève 18 October 2018.