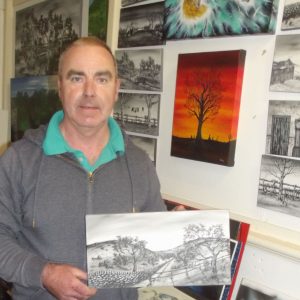 Kenneth Clarke
Kenneth Clarke is a self-taught artist living in rural countryside in the North East of England. Kenneth has been exhibiting his artwork at The North East Art Collective for six years with good success, and received an award for special recognition from The Light Space & Time Online Gallery.
Artist statement:
My artwork is influenced by my love of nature and a peaceful life near woodland area and meadows. I paint because it provides an outlet for my creativity and I find art very relaxing and tranquil. Peace and tranquillity can be seen in my ongoing series of black and white countryside landscapes. Trees, dry stone walls and wooden fences feature in almost all my current work. Occasionally little mice playing or having fun feature in garden scenes. I like black and white because it lends a rustic old world quality, and my paintings fit into any environment they are displayed in.
Previous to my art career I was involved in sport for 20 years. After achieving a very successful status in sport and the years creeping past, I decided to retire to a slow-paced lifestyle. Learning and practising art would fulfil a void left within me. Time to learn, time to paint.
My artwork began as figurative pencil drawings then evolved through abstract paintings and textured interior art. For the past three years I have worked with acrylics painting nature and country scenes plucked from my imagination and surroundings. I love to paint and continue my journey.
Q&A
What is your background?

I studied art at Greencroft Comprehensive School, Co Durham, achieving "O" Level standard. From school I had many jobs including painting and decorating until I bought a gym and successfully pursued professional bodybuilding for 18 years. After winning many titles including Mr UK and Mr Universe, I retired in 2007. I wanted a less stressful lifestyle so I took up art to fill the void I felt after I stopped competing. I still run Atlantis Gym as my main income.

What inspires you and what is your creative process?

I have experimented with many subjects and medium over the years. Recently the peace and tranquility of nature and countryside, inspires my art. Most of my monotone landscapes begin with an idea for a scene. I paint the sky and a horizon first then I build the painting from the skyline to the foreground.

What is your favourite subject matter and why?

I like painting trees, drystone walls and open countryside. Sometimes I like to put little animals in the scene. Mice, ducks, dogs, and a little pig have all appeared in some recent paintings.

Who are your biggest influences?

My first influence in art was Boris Vallejo with his amazing fantasy art images. I am sure his work influenced my early figure drawings. Mostly, I just like to paint what appeals to me.

How have you stayed inspired and energized during the pandemic?

At times I have found it difficult to stay motivated to paint during the Covid pandemic because of all the negative things going on. A lot of the news has been doom and gloom. I usually paint images that I can see in my mind's eye. Some days my thoughts are so consumed by all the Covid stuff going on I cannot see anything clear in my artistic thoughts. Luckily some days my painting just flows naturally.

What is/are your favourite medium(s)?

I am mostly using acrylics and gesso on stretched canvas for my current artworks. But I have used texture paste, airbrush and pallet knives on deep textured abstracts that I enjoyed creating a few years ago.

How long does it take to complete a piece, and what is the entire process? Do you like working on different pieces at the same time?

Depending on the subject and size of the canvas or board I can spend up to 35 hours to complete one of my paintings. It is not unusual for me to have three paintings in progress at any one time.

Name an artist(s) you would like to be compared to.

I don't really know that many artists so I don't compare myself to others. I do like to watch Bob Ross videos and cannot believe how easy he makes it look to achieve his paintings.

What subjects do you pursue and why? What other artists are inspirational to you?

My early artworks tended to be very colourful and vibrant and I really enjoyed experimenting with texture and colour. I had a large studio space and free time. The landlord went bankrupt so unfortunately, I had to give up my space. Now my work space is limited I work mostly with small grayscale countryside landscapes. Bob Ross has probably had some influence on my recent painting.

What do you hope people feel when they view your art?

I like the peace and tranquility of nature and the countryside, and I hope viewers of my paintings can feel that mood too. I feel the black and white monotone gives an atmospheric feel to paintings and fits in well with any colour scheme they are displayed in.
Projects & Collaborations
FORTHCOMING EXHIBITIONS/EVENTS

Collection on display at The North East Art Collective, Eldon Gardens, Newcastle.

PAST EXHIBITIONS/EVENTS

The North East Art Collective, Eldon Gardens, Newcastle.

AWARDS

Nov 2013 – an award from 'The Light Space & Time Online Gallery' for special recognition of outstanding art for a painting submitted in their Countryside Art competition, called "Day Break".