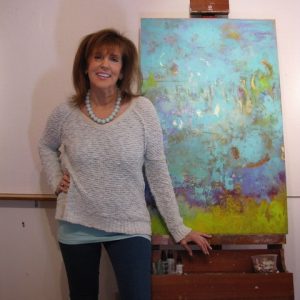 Lois Gold
Lois Gold is from New York. Lois was awarded by Marquis Top Artists, The Albert Nelson Marquis Artist Life Time Achievement Award, 2021.
Artist statement:
In the spring of 2009, I went to see the Pierre Bonnard exhibition at the Metropolitan Museum of Art. I kept returning to study these glorious late paintings many times. Each time I saw them, I found that after having been a representational landscape painter, I was becoming more drawn to the idea of painting-driven by color and texture alone.
I followed my intuition and joyful images appeared as if rising from an inner well spring. I paint spontaneously with no preliminary sketches. Memories, dreams, music and dance all contribute to my inspiration. I have always been interested in ancient frescoes and textured surfaces. I strive to reproduce something akin to them in my paintings. There are translucent as well as impasto areas of paint which alternate to make the final effect of the surface recede and advance. I find inspiration in anything from nature, everyday images, fabrics and my immense collection of art books.
My process is an intuitive mix of strokes with not only brushes, but fingers, sponges, stencils, stamps as well. I am not afraid to send water across a section of paint resulting in streaks and splashes, or what I like to call " happy accidents. I use many different mediums and pour the paint also. I stumble light colors over darker ones, use wonderful handmade papers which I tear and collage-anything which contributes to an interesting and varied surface.
When you run your hands over the final image, they can be felt as well as seen. My color choices range from the warm drama of Turner to the pastel colors of Monet.
Q&A
What is your background?

I lived in a house filled with art. My mother was an avid collector of Post- Impressionist paintings long before it was popular to collect art in the United States. She later went on to have a very well-known collection of Pre-Columbian Art after studying it at Columbia University and working at the Metropolitan Museum of Art. She loved to arrange flowers and so her love of art, travel and flower arranging was passed on to me. At the age of twelve she took me and my sister to Europe which had a lasting impression on me of the great museums and galleries.

I went to Boston University, and then to Columbia University where I received a Masters degree in French Literature. It was in graduate school when I started to sculpt in clay. After teaching languages, I took a course in watercolor and fell in love with painting and changed careers. I have been a professional artist for a little over thirty years.

What inspires you and what is your creative process?

I am inspired by other artists, by gallery exhibits and of course nature. I am a colorist first and foremost and my creative process is a very spontaneous and intuitive one. My landscape paintings are done in the studio and are from collective memories- I push the color and I do not strive for a realistic end result. I love to use collage in my more abstract pieces and the texture of the canvas is just as important as the color or the composition. I let the canvas and the colors lead me and I just follow along.

What is your favourite subject matter and why?

I would have to say that organic forms, - sky, water, trees, sandy beaches, mountains are my inspiration. Even if the image is extremely abstract, there are natural forms within the final image.

I live in New York City where everything is grounded, architectural, and filled with straight lines so when I am in Nature, I really react to the winding forms I see in the country side and the light most of all. I am fortunate in that I live on the river so that even here in the city I am able to see beautiful sunrises, reflected sunsets, and the moon from every window.

Who are your biggest influences?

I have always related most to the Impressionists, but I also love the work of Gustav Klimt, Winslow Homer, Vermeer, and Turner.

How have you stayed inspired and energized during the pandemic?

During lockdown when I was unable to go to my studio, I worked at my dining room table at home. I was forced to work on small art which resulted in some small landscapes and most of all in painting and doing collage for decorative boxes. Everyone was forced to be home and so I think they wanted to make their homes as pleasing as possible. Thus, doing something people could enjoy in their homes and was easy to deliver came about.

When I went back to the studio, I did a few very large canvases about Covid - one was abstract but contained many window forms and images. This was in relation to the New Yorkers showing their appreciation for essential workers by banging on pots, singing, etc. from their open windows every evening. I called this particular painting "Gratitude at 7 p.m." Another was called "Day 56" and had some hopeful imagery.

What is/are your favourite medium(s)?

My favorite medium is acrylic mixed media. I actually love all media except for oil. While I love the end result, I don't like its toxicity.

Name an artist(s) you'd like to be compared to.

I like to be compared to Bonnard, and Monet the most.

How long does it take to complete a piece, and what is the entire process? Do you like working on different pieces at the same time?

I can't say how long it takes to do a piece because everyone is different. Sometimes the largest go more quickly than the ones which are smaller. Some seem to "paint themselves", and sometimes after several months I look at an older painting and completely redo it. Then there are wonderful effects from the underpainting which is known as "Sgrafitto".

What do you hope people feel when they view your art?

I donated a painting to a charity for children with cancer. The painting had a very low horizon and a large sky. The woman who bought it, told me that at times when she couldn't sleep, she would sit in front of my painting and it would give her comfort. It enabled her to connect to her (in her words) "Angel Ashley" so I guess I would have to say that as most painters would say, that if the viewer is able to connect emotionally to my art, then I have been successful.
Projects & Collaborations
PROJECTS/NEW COLLABORATIONS

FORTHCOMING EXHIBITIONS/EVENTS

2022 – (June – November) Hado-Mark Gallery, Lenox Massachusetts, US

PAST EXHIBITIONS/EVENTS

SOLO EXHIBITIONS

2021 – Hado-Mark Gallery, Lenox Massachusetts, US

2021 – The Hen's Nest Gallery, Washington Depot, Connecticut, US

2021 – Gallery 71. , New York City, New York, US

2015 – The Alex Adam Gallery, New York City, New York
2013 – Works Gallery, Small Works, New York City, NY
2012 – Mary Childs Gallery, Great Barrington, MA
2009 – In Good Company, New York City, NY
2008 – Kiesandahl and Calhoun, Beacon, NY
2004 – Lizan-Tops Gallery, East Hampton, NY
2001 – Lizan-Tops Gallery, East Hampton, NY
2000 – Lizan-Tops Gallery, East Hampton, NY
1997 – Lizan-Tops Gallery, East Hampton, NY
1996 – Lizan-Tops Gallery, East Hampton, NY
1995 – Lizan-Tops Gallery, East Hampton, NY
1992-1993 – Summa Gallery, New York, NY
1990 – Morning Calm, New York, NY
1987-1989 – Ward Nasse Gallery, New York, NY

SELECTED GROUP EXHIBITIONS
2021 – Saatchi Art
2020 – Juried on line exhibit Contemporary Art Gallery Magazine
2020 – The Hen's Nest, Washington, CT
2019 – The Hen's Nest, Washington, CT
2019 – Greenwich Arts Council, Greenwich Conn, juried exhibition
2019 – The Grimandi Gallery, NYC
2018 – The Hen's Nest, Washington, CT
2017 – Agora Gallery, Small Works, New York, New York
2017 – Morning Calm Gallery, Small Works, New York, New York
2017 – Agora Gallery, New York, New York
2015 – The Gayhead Gallery, Martha's Vineyard, Mass
2014-2015 – Memorial Sloan Kettering Exhibition, New York City, NY
2013 – Mary Childs Gallery, Great Barrington, MA
2010 – Behnke Doherty Gallery, Washington, CT
2007 – National Association of Women Artists Exhibition, New York City, NY
1998-2007 – Ruzetti and Gow, New York City, NY
2007 – Libraire and Friends, Belleport, NY
2007 – Kiesandahl and Calhoun Fine Art, Tarrytown, NY
2007 – Morrison Gallery, Kent, CT
2006 – Lizan-Tops Associates, New York City, NY
2006 – Nutmeg Gallery, Kent, CT
2005 – Cavalier Gallery, New York City, NY
2005 – Flinn Gallery, Greenwich, CT
1999-2004 – Martha Keats Gallery, Santa Fe, NM
2004 – Nutmeg Gallery, Kent, CT 2004
2004 – Bridgehampton Historical Society, Bridgehampton,NY
1994-2004 – Lizan-Tops Gallery, East Hampton, NY
2004 – Lizan-Tops Gallery, East Hampton, NY
2002-2003 – The Rice Gallery, Denver, CO
2002-2003 – Karen Zatt, Los Angeles, CA
2003 – Lizan-Tops Gallery, East Hampton, NY
2002 – Cantor Fitzgerald Relief Fund Auction, Sotheby's, New York, NY
2001 – The Armory, New York, NY
1990-2000 – Westhampton Performing Arts Center, Westhampton, NY
1998-2003 – Canyon Ranch, Lenox MA
1996-2002 – National Association of Women Artists, New York, NY
1988, '96, '97 – Ute Stebich Gallery, Lenox, MA.
1992 – Laurel Seth Gallery, Cassatt Pastel Society, Santa Fe, NM
1991 – Art Works Gallery, Fair Oaks, CA
1991 – Adelphi University, New York, NY
1991 – Morning Calm Gallery, New York, NY
1990-1995 – Summa Gallery, New York NY
1990-1995 – Summa Gallery, Brooklyn, NY
1990-1991 – Atwood Gallery, New York, NY
1990 – Lever House Juried Show, New York, NY
1990 – Claggett Rey Gallery, Cassatt Pastel Society, Denver, CO
1990 – Chestnut Hill Gallery, Wilton, CT
1989 – Jacob Javits Federal Bldg., N'tl Assoc of Women Artists Juried Show, NY, NY
1989 – Institute of Visual Sciences, Inc., New York, NY
1989 – Lincoln Savings Bank, New York, NY
1988 – Gallery Talmadge, Cassatt Pastel Society, Placerville, CA
1988 – Corporate Art Directions, New York, NY
1988-1990 – Saxon Gallery, Southhampton, New York
1987 – Del Bello Gallery, Toronto, Canada
1987-1991 – Ward Nasse Gallery, New York, NY
1987-1990 – Country Art Gallery, Long Island, NY
1986 – The 70th Art Gallery, New York NY
1986 – Old Sculpin Gallery, New York, NY

MUSEUM COLLECTIONS

A painting from many years ago is featured in their permanent collection:

Herbert F. Johnson Museum of Art, Permanent Collection, Ithaca, NY

AWARDS

2021 – Marquis Top Artists, The Albert Nelson Marquis Artist Life Time Achievement Award
2019 – Art Tour International Magazine Juried artist of the Year
2011 – Artaviva.com, Mixed Media Painting Award
2005 – International Biographical Center, 21st Century Achievement Award, Cambridge, UK
2003 – Florence Biennale Nominee (Juried by Barbara Rose, Dore Aston, et al)
2001, 1993, 1991 – The Artists Magazine, Landscape Award
1999 – International Biographical Center, 20th Century Achievement Award, Cambridge, UK
1995, 1987 – The Artists Magazine, Dream Studio Finalist
1994 – Pastel Society of American, Juried Scholarship Award
1989 – Pauline Law Award, National Association of Women Artists, Works on Paper

FILM AND TELEVSION

Artwork that has appeared in in the background of TV programs and movies.

2016 – HGTV
2011 – BET Television, Ryan and Tatum O'Neal Reconciliation
2010 – BET Television, Being Terry Kennedy
2002 – My Big Fat Greek Wedding

CORPORATE COLLECTIONS

Artwork has featured in:

New York Presbyterian Hospital
The Four Seasons Hotel
Brooklyn Union Gas
Boston University
Bristol Myers Squibb
Imperial Oil
Marshalls
Bed, Bath & Beyond
Gold, Farrell & Marks, Esq.
Chase, Ltd.
Balis, Lewittes & Coleman
Kensington Group Ltd.
Hillyer and Irwin, Esq.
One Step Productions
Tandem Management Inc.
Canyon Ranch