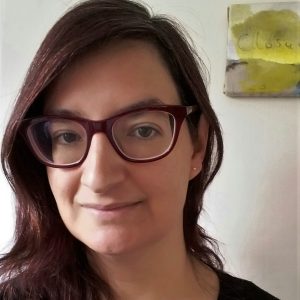 Luciana Rosado
Q&A
What is your background?

I am a Portuguese visual artist, living and working in Cambridge, UK since 2009. I hold a Degree in Painting Fine Arts from the Faculty of Fine Arts, University of Lisbon, Portugal.

What inspires you and what is your creative process?

The beginning of my paintings are words. The source of inspiration to produce each individual artwork is the need to visually resolve whatever words I have selected from diverse sources like music lyrics, literature, interviews/podcasts or conversations. Following a word selection, I will gradually build layer upon layer of acrylic paint and writing until I arrive at a finished image that I feel is complete.

What is your favourite medium?

My main medium is painting. However, my paintings are very closely related with drawing since the paintings are produced by a build-up of layers applied very quickly and demanding very fast decisions similar to the decisions used when producing sketches.

What subjects do you pursue?

I like to explore and resolve visually concepts of memory, vulnerability, resilience and failure.

Who are your biggest influences? What other artists have been inspirational to you in your work?

I take inspiration from many sources and the work of various visual artists and their careers. I very much enjoy the work of Mark Rothko, Agnes Martin, Paula Rego and Christian Boltanski. I am also very inspired my music lyrics and literature. Mainly feel inspired by Conceptual Art and Abstract Expressionism because these artworks challenge me to think and help me to stop and focus on something outside myself.

What do you hope people feel when they view your art?

I would like the public to take time and feel that they can pause when experiencing my work. It is important to me that the message conveyed in my work can prompt the public to think about different issues and that there is a level of personal connection that can be established between each individual and the work.
Projects & Collaborations
PROJECTS/NEW COLLABORATIONS

I am the current Artist-researcher collaborator at Newnham College, University of Cambridge, producing work in collaboration with two Researchers related to the theme of Forced Migration.

FORTHCOMING EXHIBITIONS/EVENTS

2022 – Jan – July – "This place is us" Newnham College, University of Cambridge, UK. Solo exhibition that concludes Luciana's collaboration with researchers of Margaret Anstee Centre, University of Cambridge, on the theme of forced migration.

PAST EXHIBITIONS/EVENTS

2017 – Chill02 Cafe, Cambridge, UK

2016 – Cambridge Open Studios Exhibition, Cambridge, UK

2014 – The spare room, New Hall Art Collection – Murray Edwards College, University of Cambridge, UK

2007 – Writing as a journey, Luciana Rosado / Oscar Baeza, Pedro Serrenho Contemporary Art Gallery, Lisbon, Portugal

2005 – Freed Feelings / Uncovered memories, Portimão, Portugal

Selected Group Exhibitions

2020 – Babylon Gallery Open Exhibition 2020, Babylon Gallery, Ely, UK

2019

The Cambridge Show, Kettle's Yard, Cambridge, UK

Vivacity City Arts Gallery Open Exhibition 2019, Museum of Peterborough, UK

Open exhibition, Michaelhouse Centre, Cambridge, UK

John Hugues Arts Festival Open Hang Gallery 2019, Jesus College, Cambridge, UK

Selection of pieces on display at Great Western Studios, London​, UK

2018

Spontaneous, Nolias Gallery, London, UK

WomanSpace, Platform1 Gallery, London, UK

Summer Show 2, King's Art Room, King's College, Cambridge, UK

Reframing the sentimental in the Art of the Maternal, Platform 1 Gallery, London, UK

From the Studio Floor 2018, St Barnabas Church Cambridge

Chapter I, Artnumber23 Gallery, London, UK

JCE Biennale, Kunstbygningen, Denmark

JCE Biennale, Science and Art Center Brüzis, Latvia

JCE Biennale, Centrul de Interes, Cluj-Napoca, Romania

2017

JCE Biennale of Young European Art 2017-2019, Le Beffroi, Montrouge, France

"Family traces – Laços de Família", Manuel Teixeira Gomes House, Portimão, Portugal

2016
From the Studio Floor, The Guildhall, Cambridge, UK

Vivacity City Arts Gallery Open Exhibition 2016, Museum of Peterborough, UK

Cambridge Open Art Exhibition 2016, Swavesey Village College, Cambridge, UK

2015

ProCreate Project Launch Installation, The Women's Art Library, Goldsmiths College, London, UK

Cambridge Open Art Exhibition Top Twenty 2015, The Over Gallery, Over, UK

Cambridge Open Art Exhibition 2015, Swavesey Village College, Cambridge, UK

Miraculous Urgency, Now and Again Gallery, Brighton, UK
Note 1, Okinawa, Japan, Note 2, London, Note 3, Mongolia

2013 – Michaelmas Collection, Williams Art Gallery, Cambridge, UK

2012 – Open Studios Mixed Show, Cambridge Artworks Gallery, Cambridge, UK

2011

Really, Cambridge School of Art, Anglia Ruskin University, Cambridge, UK

"Homeland marks – Tracos da minha terra", Portimão, Portugal

… She Said, The Outside Gallery, London, UK

2010 – Changing Spaces, Regent Street, Cambridge, UK

2008 – Abel Manta Painting Prize, Abel Manta Municipal Museum, Gouveia, Portugal

2006/2007

Youth March Painting Show, Portimão, Portugal

Lisbon Art Fair 2007, Pedro Serrenho Contemporary Art Gallery, Lisbon, Portugal

Final Degree Show – Fine Art Students, Lisbon and Oporto, Portugal

Route Dissemination, Pedro Serrenho Contemporary Art Gallery, Lisbon, Portugal

Final Degree Show – Drawing Students, National Society of Fine Arts, Lisbon, Portugal

Lisbon Art Fair 2006, Lisbon, Portugal

2005 – 8th Painting Award Show, Culturgest (Lisbon and Oporto), Portugal

INTERVIEWS

Artist Luciana Rosado on painting, parenthood and the power of words