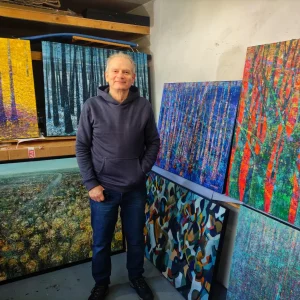 Peter Corr
Q&A
What is your background?

Peter was born in Preston, UK, and spent many years living and working abroad and enjoyed the experience of getting to know different peoples and cultures. He spent many years teaching Art and Photography in Germany, Cyprus and most recently in the Middle East. All these places are present in his work and he feels you don't have to look very far to see the evidence; the blue and turquoise of the Mediterranean, the warm ochres of the Persian Gulf, a central preoccupation with design, order and the tactile qualities of earth and stone.

What inspires you and what is your creative process?

He often tries to achieve contrasting sensations and impressions, feelings of time passing, and notions of eternity. In particular, Peter is very interested in concepts associated with tranquillity, serenity, and meditation.

I believe passionately in the power of art to transform both ourselves and the environment in which we live.

Art enhances our lives, it has always been with us; we started drawing on walls in caves; we need to reflect on the world, to present it back to ourselves in different forms.

Peter Corr's work occupies that transitional space between figuration and abstraction. The flat surface of the picture plane is something that he tries to preserve whilst simultaneously employing pictorial devices that may suggest space and depth. He believes there is always a tension between the deployment of traditional perspective devices and the reality of the canvas as a 'flat' object or 2-dimensional surface. This is why in much of his work you will rarely find a record of a particular place or geographical location. He is more interested in the role played by experiences, events, feelings, colours, and the textures that form the visual backdrop to our lives.

He often tries to achieve contrasting sensations and impressions, feelings of time passing, and notions of eternity. In particular, Peter is very interested in concepts associated with tranquillity, serenity, and meditation.

Who are your biggest influences?

Peter is influenced by many artists but particularly the German painters Anselm Kiefer and Gerhardt Richter. The textural qualities found in the landscape work of Anselm Kiefer continues to provide inspiration. You will also see echoes of both the impressionist and expressionist art movements in his work.

What is/are your favourite medium(s)?

Peter primarily works in oil and cold wax medium and has delivered a series of workshops on the use of cold wax in landscape painting. Cold wax is an extremely versatile medium and can be used to develop rich translucent layers and impasto.

How long does it take to complete a piece, and what is the entire process? Do you like working on different pieces at the same time?

The time taken to complete a painting varies considerably; some smaller pieces can be finished within 3 or 4 weeks whilst a large canvas may take over a year. I often rework a painting months after it has been 'apparently' completed. It is often wise to 'rest' a painting for a period of time and return to it with fresh eyes.

Name an artist(s) you'd like to be compared to.

There are so many, this is an impossible question

What subjects do you pursue and why?

I have recently been preoccupied with representing the forest. Three years ago, I was awarded a 2 week residency in the New Forest and this proved to be a catalyst for an extensive body of work. I am still developing new paintings from this absolutely wonderful experience. Other pieces are more abstract in terms of outcome but they invariably originate from my relationship with nature and the landscape.

What other artists have been inspirational to you in your work?

Far too many to mention.

What do you hope people feel when they view your art?

With painting, the physical act of making is central to the creative activity and strengthens our sense of autonomy and agency. This is what we can do, this is what we can make; from the initial idea to a fully realised end product, a physical artefact, shaped and manufactured to our design and specifications. A single individual production line where the artist is the sole creator responsible for all aspects of the completed item. For the artist, there is no economy-driven division of labour. When we work with our hands there is a conversation, a dialogue between hand, eye and brain, a never-ending feedback loop. We learn with and through the exploration of material. Plato advocated specialisation but had little to say about the negative social consequences of the relentless drive towards efficiency in the workplace. Sometimes we need to 'take back control' in a very personal sense.

If I can engage people with the inherent 'mystery' of painting and if they can start to weave their own narrative and understanding around a particular work I have created, I will feel I have been successful. The whole enterprise should be a shared experience between the artists and the viewer, but it doesn't have to be the same experience or interpretation...it will be different and it should be.
Projects & Collaborations
FORTHCOMING EXHIBITIONS/EVENTS

2023 (Nov 17th – 19th) Edinburgh Art Fair, O2 Academy Edinburgh, Scotland

PAST EXHIBITIONS/EVENTS

2023 (June 10th – July 7th) THE DARRYL NANTAIS GALLERY, Linton, Cambridgeshire, UK

2023 (May 18th – 21st) Reveal Glasgow Art Fair, SEC Centre, Scotland

2023 (April 28th – 30th) Cheltenham Art Fair (Fresh), UK

2022 (Nov 17th – 20th) Edinburgh Art Fair, Edinburgh, Scotland

2022 (May 5th – 8th) Affordable Art Fair, Hampstead, London, UK

2021 (Oct 21st – 24th) Affordable Art Fair, Battersea, London, UK

INTERVIEWS

I was recently interviewed on BBC Radio Cambridge June 2023 about my solo exhibition at The Darryl Nantais Gallery in Linton.

I gave a talk to the Royal Photographic Society Saturday 13th and Sunday 14th May 2023 about my photography and my painting.

If you visit Peter's website https://www.petercorrart.com/blog or https://www.instagram.com/petercorrart you will find links to a number of videos and blog posts were he discusses his ideas, techniques and approaches to painting.