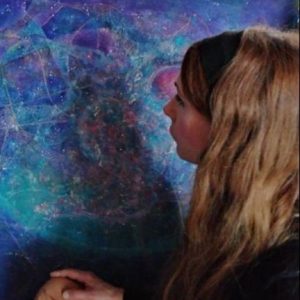 Sveva Altea
Sveva Altea, Contemporary Artist | Rome, Italy
35% discount off selected artwork.
Q&A
What inspires you and what is your creative process?

I am inspired by many different things. Mainly nature and everything that has to do with the Cosmos, the Universe, the Moon, Stars, Constellations, Galaxies; astrophysics in general has always been fascinating to me. I am inspired by colours, light and darkness as a reflection of the subconscious mind, emotions and deepest feelings.

My creative process depends on my mood but mainly my inspiration springs directly from colours, it is these that guide me through the process. My art is very instinctive, l don't usually decide what to paint before l start, but l follow my instinct like a flow, through the shades of colours and the emotions as if in a vortex, in another space and dimension. I don't think it can really be described in words.

What is your favourite subject matter?

One of my favourite subjects is starry nights and the Moon with its different shades.

Who are your biggest influences?

As a painter and having studied History of Art, l am influenced by many like the Pre-Raphaelites, the Impressionists, Egon Schiele, Frida Kahlo, Emma Kunz and Edward Hopper.

How have you stayed inspired and energized during the pandemic?

During the pandemic l tried to stay creative even though it has been very hard not to be able to participate in exhibitions. Sometimes an artist can gain inspiration through difficult times.

What is/are your favourite medium(s)?

My favourite medium is oil paint, which is very shiny and thick and can be very versatile. I sometimes mix it with different sands, stones and pigments. I sometimes also use resin. For some of my compositions l use a lot of special pens, markers or my fingers to draw the lines. I don't usually use brushes except for figurative painting, when it is required.

How long does it take to complete a piece, and what is the entire process? Do you like working on different pieces at the same time?

To complete a piece, it depends on whether it is a commission, figurative piece or a portrait, which can take up to a month and a half. It is very different for abstract pieces. Smaller paintings can take a month, and longer depending on the drying times of the materials I use. l usually like to work on different pieces at the same time.

What do you hope people feel when they view your art?

I hope the viewer feels free to interpret the artwork through their own imagination and through the emotions it provokes in them. As the saying goes, "Beauty is in the eye of the beholder".

Name an artist(s) you'd like to be compared to.

As an artist l wouldn't like to be compared to anybody else.
Projects & Collaborations
PROJECTS/NEW COLLABORATIONS

FORTHCOMING EXHIBITIONS/EVENTS

PAST EXHIBITIONS/EVENTS

2021/2022 – 12th Sept -16th Jan – DIVINA COMMEDIA, L'arte contemporanea rilegge Dante Alighieri, Museo Casa Gaia, Portobuffolè (Treviso), Italy

2021 – Triennale di Arti Visive di Roma, Italy

2020 – Premio della Lupa, Rome, Italy

2020 – Royal Arts Prize 2020 and La Galleria Pall Mall, London, UK

2019 – Galleria Farini Bologna, Italy

AWARDS/ACHIEVEMENTS

2021 – Selected for The Triennale di Arti Visive di Roma, Italy

2020 – Painting 'Iron Sky' selected for the Exhibition Premio della Lupa, Rome, Italy

2020 – Paintings 'Everytime We Say Goodbye', 'Breathe' and Blow Up, selected for the Royal Arts Prize 2020 and La Galleria Pall Mall, London, UK

PUBLICATIONS

2022 – Artworks selected for the new edition of the Divine Comedy for the anniversary of Dante Alighieri s death, due to be published in January 2022. Artworks are exhibited in Museo Casa Gaia, near Treviso, ltaly.