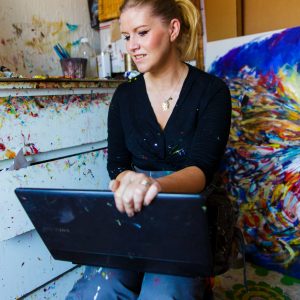 Victoria Horkan
Victoria Horkan's work offers a bold, vibrant and expressive milieu of forms and colours that falls somewhere between the realms of impressionism, abstraction and expressionism. She conveys and engages with scale and perspective, making large what is typically small but her central focus is on colour, and movement. As a child she recalls experiencing the somewhat exhilarating sense when for instance an aeroplane would appear too close to the ground. Seeing sculptures that would appear overpowering in their scale, this would both offer to excite and cause an indescribable sense of oppression that to date she seeks to explore.
Pure, bright colours that are set in contrasts of light and dark, combined with loose, distinct brushstrokes that resonate strongly with the impressionist movement. This buoyant mark marking is the sign of an assured and mature artist and the manner in which they are applied creates a sense of fluidity giving the work an energetic, flickering quality that is particularly evident in her Butterfly work. Horkan is indeed fascinated by the idea of interpreting motion and used to sit in the dance studios at Bretton Hall College in order to try and capture the dancers' movements as they performed. It is this she has established as a key focal point for her work and this is what sets her apart from her contemporaries.
Horkan is aware of what a powerful stimulus colour can be and recognises its capacity to affect mood and to generate particular emotions. She focuses on the viewer and the impact and emotion that can bring to the fore, in much the same way that music may move the listener. Kandinsky was the first artist to seriously explore the connections between music and art, believing musical and visual expression could be used to mutually illuminate and intensify each other.
She is not looking to translate a particular narrative or to provide work that is radically conceptual. Rather she seeks to leave the viewer with a lasting impression, to bring them to a place of joy even on the darkest of moments and her colourful paintings radiate an energy that is truly uplifting and invigorating. She is sometimes taken into the realms of pure abstract painting and this is where Horkan herself experiences the joy of artistic epiphany. Giving her the freedom to explore her impressionistic style and application of colour, she finds herself totally free to express the vision that comes from within. Having already exhibited in London, Leeds, Belfast and Edinburgh and with clients in America, Italy, Dubai and Abu Dhabi, Victoria Horkan is definitely a name to watch.
Q&A
What is your background?

I studied a BA Hons in textile design at Bretton Hall University and then went on to do a Masters Degree in Huddersfield.

What inspires you and what is your creative process?

I think every artist is inspired by nature and what's around them, the natural colours of the world we live in presented to us in so many diverse and interesting ways. The colours of a butterfly and its intense vibrancy but also the motion and movement of such creatures, birds, animals, fish, flowers. I feel we are all connected, I feel connected to them especially when I paint. I am also trying to capture their natural motion, how a bird wings would impact and leave a print on a canvas, the flickering qualities of a butterfly and its gentility. The movement of flowers, and expression. I love manoeuvring oil paints around the canvas in attempt to emulate these motions.

What is your favourite subject matter and why?

Oh gosh I think it must be the majestic butterfly. Artists have long painted such creatures but I think I convey them in a different way, I give them a sense of power. Enlarging what we know to be typically small is something that intrigues me, and also changing the way we perceive things is part of what I want to evoke, I want people to look closer to see further that what is initially presented. It's about moving the viewer and wanting them to engage in the work.

Who are your biggest influences?

I'm old school I still think Monet is just the best artist, his technique and the way he layers colour, gently and compassionately yet with such confidence. I love that the movement he was prolific in was 'impressionism' and his work will forever have just that… a long and eternal impression.

How have you stayed inspired and energized during the pandemic?

I think most artists will tell you that their lives and practice hasn't changed that much during the pandemic. We work on our own mostly in our own studios, and don't have much interaction. Our job means we are very enclosed and shut off on a day-to-day basis. Saying that our hearts are opened every day when we paint and as long as you have imagination on your side, painting is the best job to have. I just listen to music all day, paint, drink lots of coffee as long as you are happy painting is easy. When things get tough mentally, the artwork suffers and it's kind of cruel because your suffering is laid bare there on a canvas. Its shows, quite literally.
Projects & Collaborations